Nathan Hawkes studio visit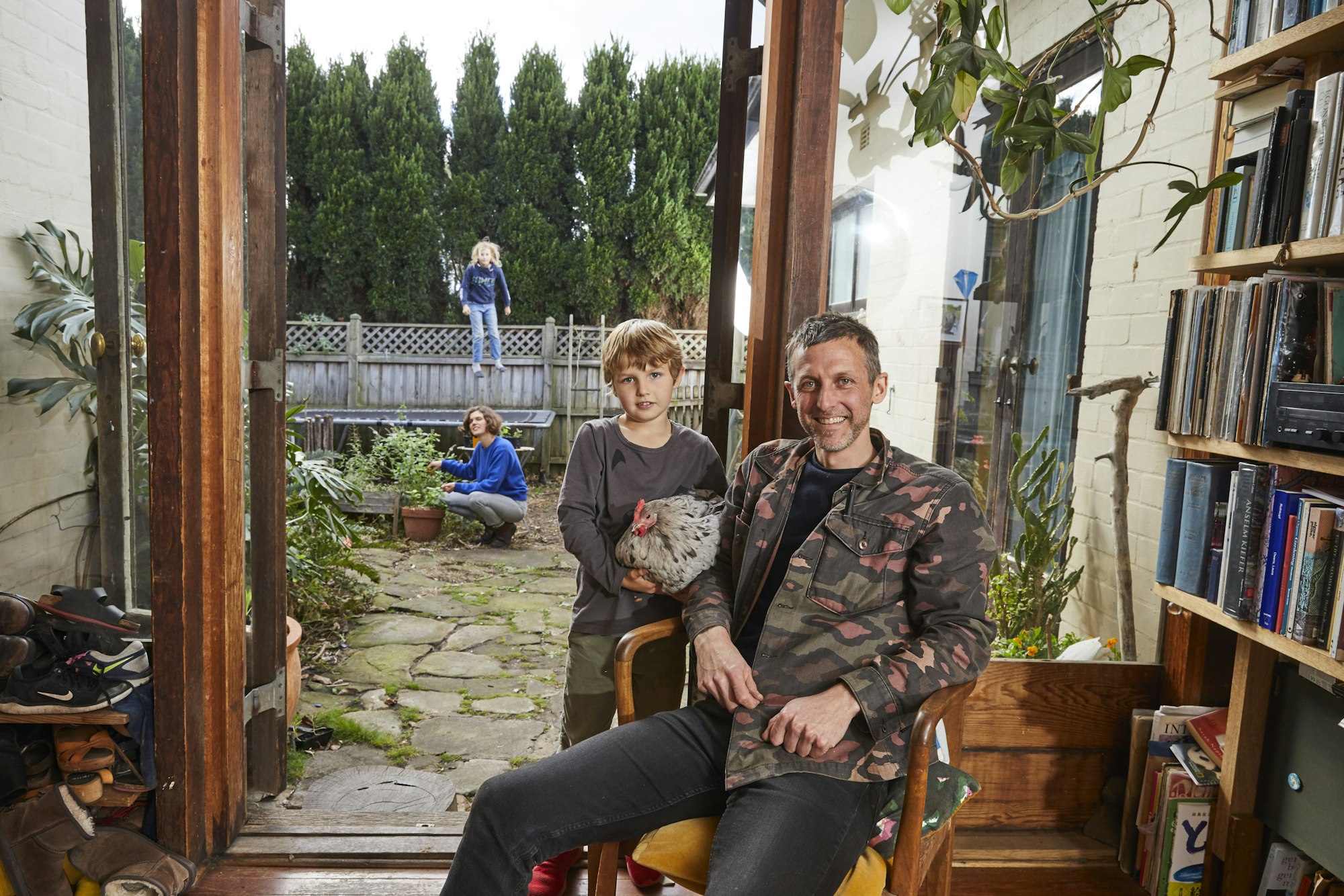 The home artist Nathan Hawkes shares with wife Shona and sons Miro, 10, and Jens, 6, is at the back of a larger house in Hunters Hill that belongs to a friend's parents. Entering down the side passage and via the backyard, one passes chickens and vegetable beds, punnets of seedlings, pea straw, pitchforks and an outdoor bath that's heated by an open fire beneath it.
'It's been called The good life,' Hawkes says with a grin, and it's not hard to imagine the cheerful young couple in heavy boots as the '70s sitcom's self-sufficient Londoners Tom and Barbara Good, surrounded by innumerable Margo and Jerry Leadbetters. It's late morning, but I half expect, or hope, to be offered a glass of home-made peapod burgundy. But coffee it is.
The domestic arrangements of many artists might be of little importance to their studio or creative practice. But for Hawkes, everyday life and artistic expression are as one: his studio is also his family's living room. And vice versa. 'Miro and Jens will come down in the morning and remark on my progress overnight,' he says. 'I'm often surprised at how engaged they can be.'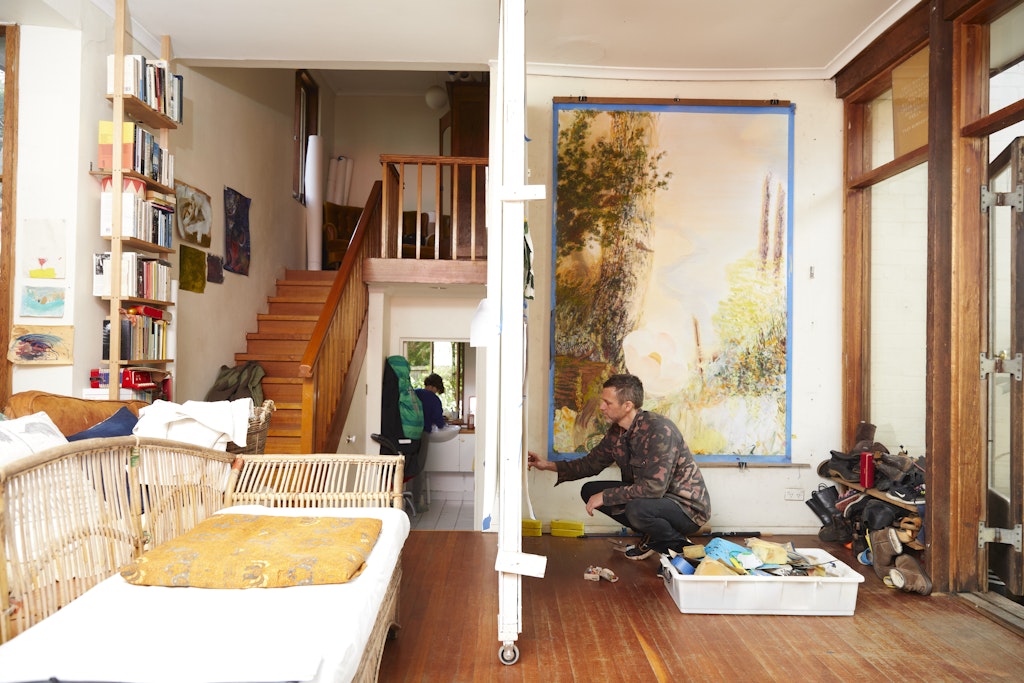 Sunlight falls across the floorboards towards two large-scale pastel works taped to the living room wall behind a bamboo day bed. Both are destined for display in Real Worlds: Dobell Australian Drawing Biennial 2020. 'We all know not to lean back too far when sitting on the couch,' he says.
With surprisingly little effort, he moves the couch to one side to better access the drawings. Socks beneath each leg allow it to slide across the timber more easily. It's a good tip and essential for a piece of furniture that has to move often. Plastic tubs full of art materials – pastels, sponges, paper stencils, rags – slide beneath the seat when not in use. Meanwhile, the living room corner is comprised of not two, but three walls. One, on wheels, pivots on hinges, allowing the artist to work on and see two drawings at once.
A graduate of the National Art School in Sydney, Hawkes experienced a similar amalgamation of life, work and workspace in 2017, while engaged as a studio assistant for Swedish artist Andreas Eriksson, whose practice feeds off everyday events and the natural environment surrounding his house and studio.
'I was educated, art-wise, to believe that everything [in the studio] had to be pure and serious. And, in a way, that felt kind of anaemic,' Hawkes says. 'Life just couldn't penetrate. I was keeping everything separate. A big lesson was to just let things happen, to let the work be permeable, to absorb, to be interrupted and change, based on this "impure" environment.'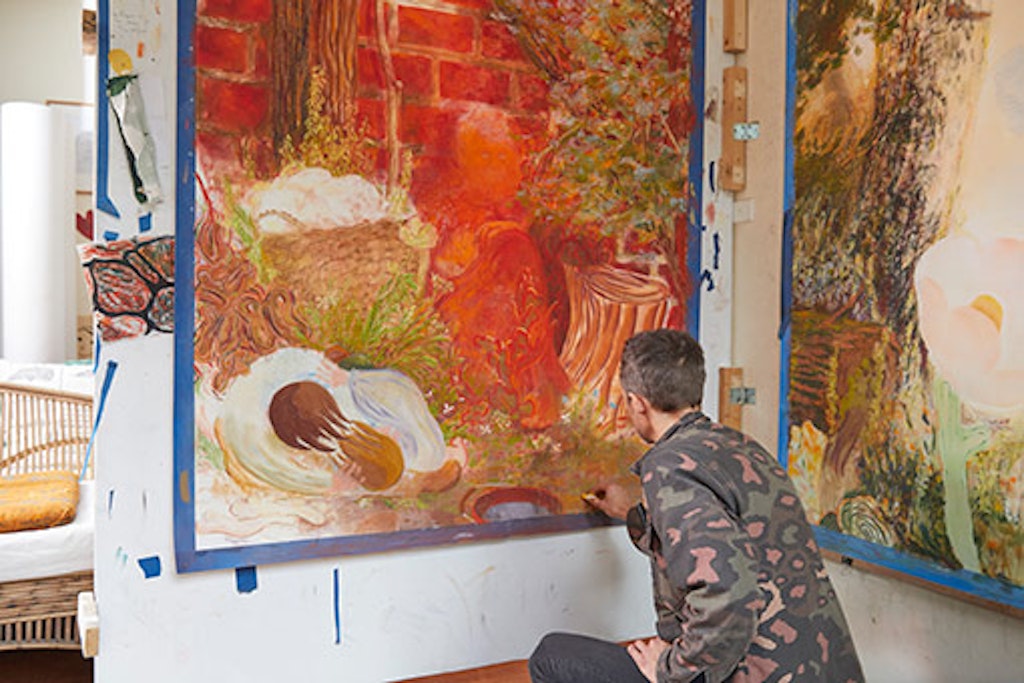 Each of the works on the walls could be described as a landscape. But in one, real and imagined worlds overlap more noticeably. Below a red brick wall, two small boys, similar in age to his own sons, wrestle on a shallow patch of earth between bleached bones and what looks suspiciously like the laundry basket in the corner, the contents of which later attract the attention of one of the family's chickens.
A fishing rod beside the shoe rack is employed, Matisse-like, to draw at a distance, but also hints at Hawkes' 'let things happen' approach to mark-making, which might also involve scratching the paper with a pin or blade, or employing fingers, hands, sponges and the vacuum cleaner. 'It's both a great mark-maker and helps lift off top layers of pastel in the process of erasure,' he says. 'It's also great for cleaning, occasionally.'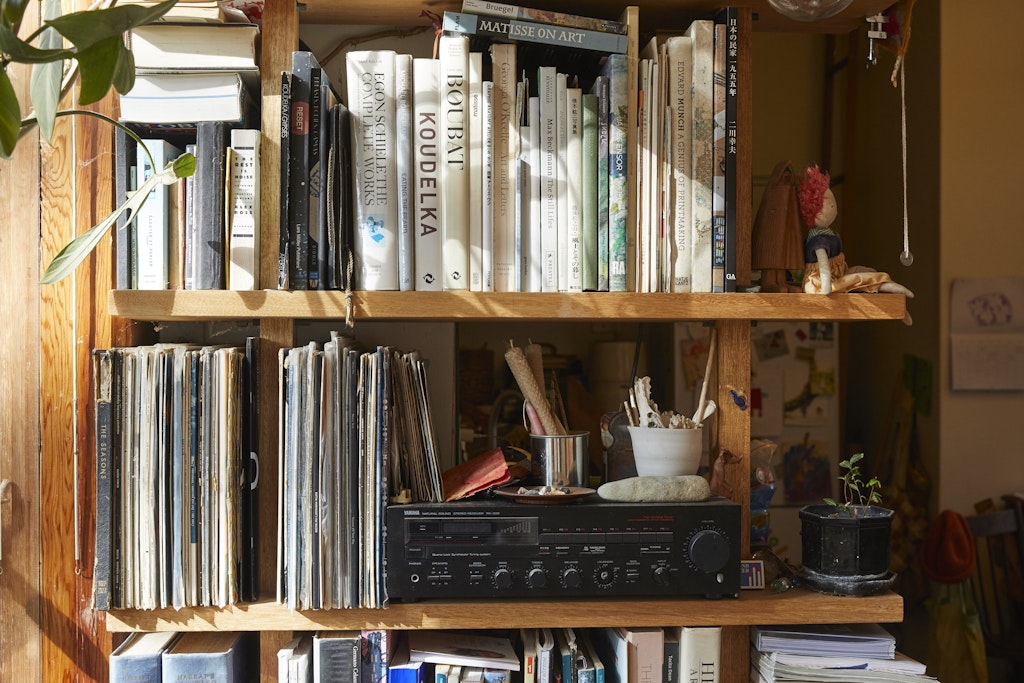 Shelves of art books, several reflecting the artist's time spent in Scandinavia and Japan, divide the workspace from the kitchen and dining table. More bookshelves and an upright piano sit at the base of the stairs, a watercolour of a fairywren propped against the sheet music.
'Way too many to mention,' he says of the diverse line-up of musicians he likes to listen to as he works. It includes American composers David Lang and John Adams, Bjork and Bach, Aphex Twin and Kurt Vile, folk legend Shirley Collins, Mazzy Star's Hope Sandoval and one-time touring cellist for Nirvana, Lori Goldston. 'Music can help generate energy and secure some co-ordinates as the work evolves,' he says.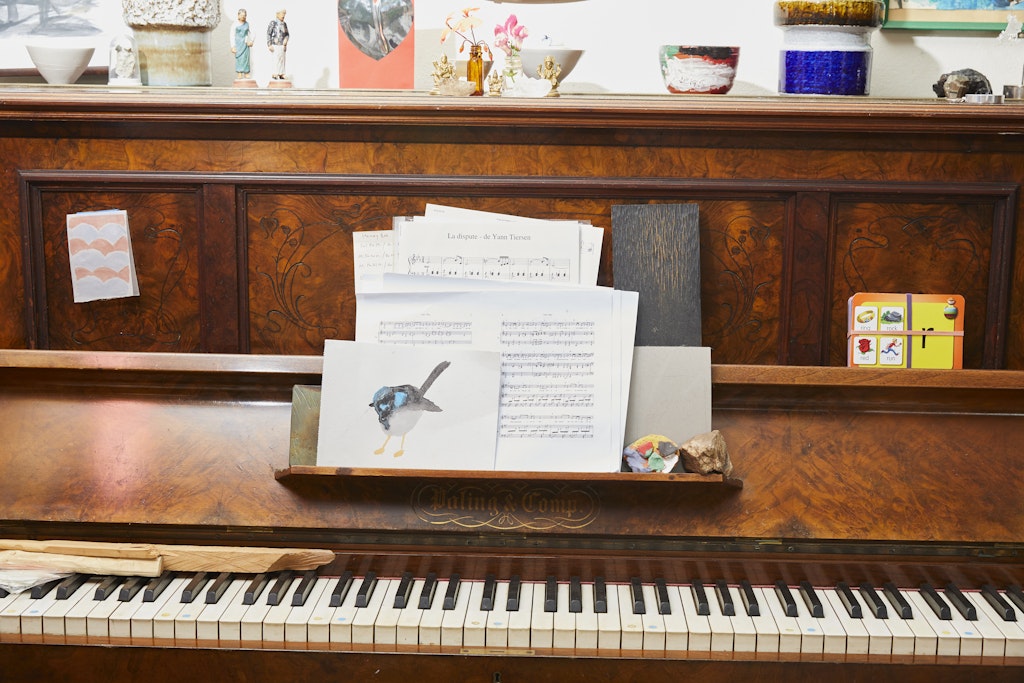 'There are artists who show up at their studio every day and work office hours almost, but I never felt I could sustain that type of work. I remember someone once describing a different model, where you carry your studio around with you. It's not just the time you spend in your workspace.
'The thing about working here, the fact that I could be washing the dishes and looking at a part of a drawing that's giving me the shits and trying to work it out, is a blessing, but it's also problematic. Having space away from the work allows you to process things as well, which is often really valuable.'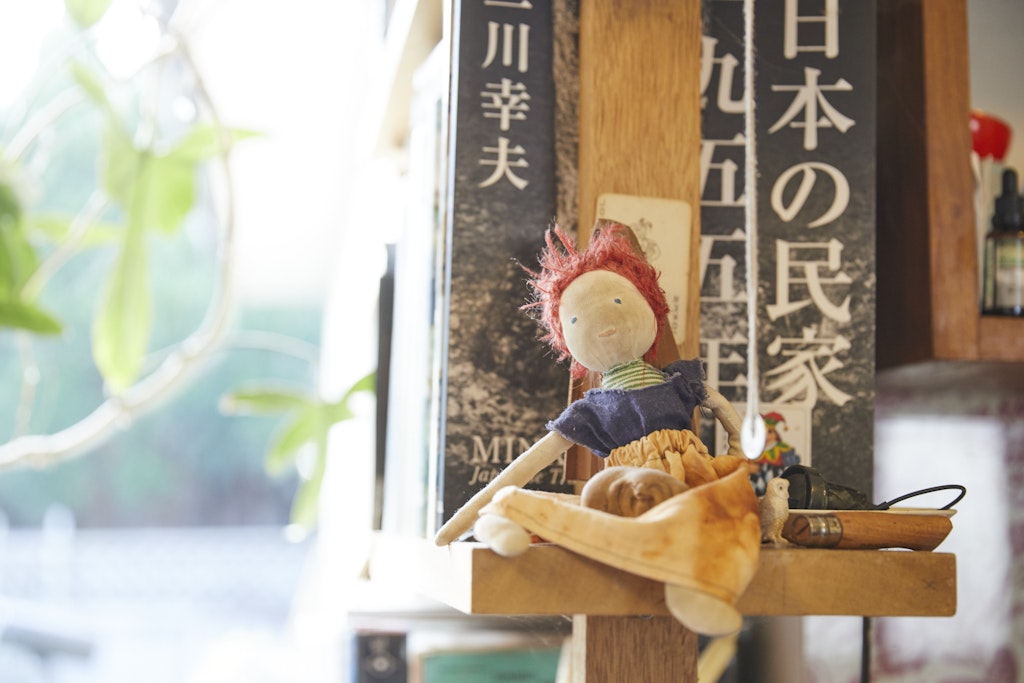 The living room's backdrop-scale drawings and the set-like mobility of its walls and furniture reflect Hawkes' other job as a scenic artist with Opera Australia four days a week. Before COVID-19, one day a week and evenings were devoted to his own art, a schedule reflected in words by Danish poet Inger Christensen scrawled on the wall in pencil: 'Day begins in the middle of the night'.
They bring to mind the words in Brett Whiteley's studio – 'Life is brief, but my God Thursday afternoon seems incredibly long'. In 2007, Hawkes won the Brett Whiteley Travelling Art Scholarship while still in his final year at art school. 'It's pretty shocking getting something like that at that stage of your career,' he says. 'I definitely felt excited and terrified at the same time. That sort of imposter complex. As soon as there's any attention drawn to you, you think "I'm going to be torn apart".
'Somehow I got the strange idea that artmaking was a career to pursue, so I did all the things I felt I was supposed to do, like try to find gallery representation. It's interesting to have that experience of winning. You sort of think things will just flow from there, but it really didn't at all.'
While the scholarship allowed Hawkes to live for three months in Paris and travel more broadly, and also helped him acquire other scholarships, such as a Marten Bequest, down the track, almost a decade passed before he held his first solo commercial show.
'I think that was actually really beneficial,' he says. 'It forced me to reckon with my own motivations and find a way of working that felt fertile and generative and conducive to having a family. Being able to support my family from my job means with the drawings I don't have to answer to anyone really.
'I can just enjoy the materials and finding out what happens and not knowing. Remaining in that "not knowing" space is so hard, but it's the most potent thing for any kind of maker. It's potency that you're searching for, even if you don't really know what it is when it presents itself. It's important to remain free to pursue whatever happens.'
As his deadline for Real Worlds looms, that freedom to explore the works taped to the living room wall is coming to an end. 'I feel like regardless of what I make, it's going to feel like a failure in this context,' he says. 'It's that imposter thing again. But I remind myself that it's important for people to be vulnerable. It's okay to be laughed at and not taken seriously. In some sense it's the role of the artist to be vulnerable in public.'
He skilfully retrieves a chicken called Toothless from the basket of washing and carefully deposits it back outside.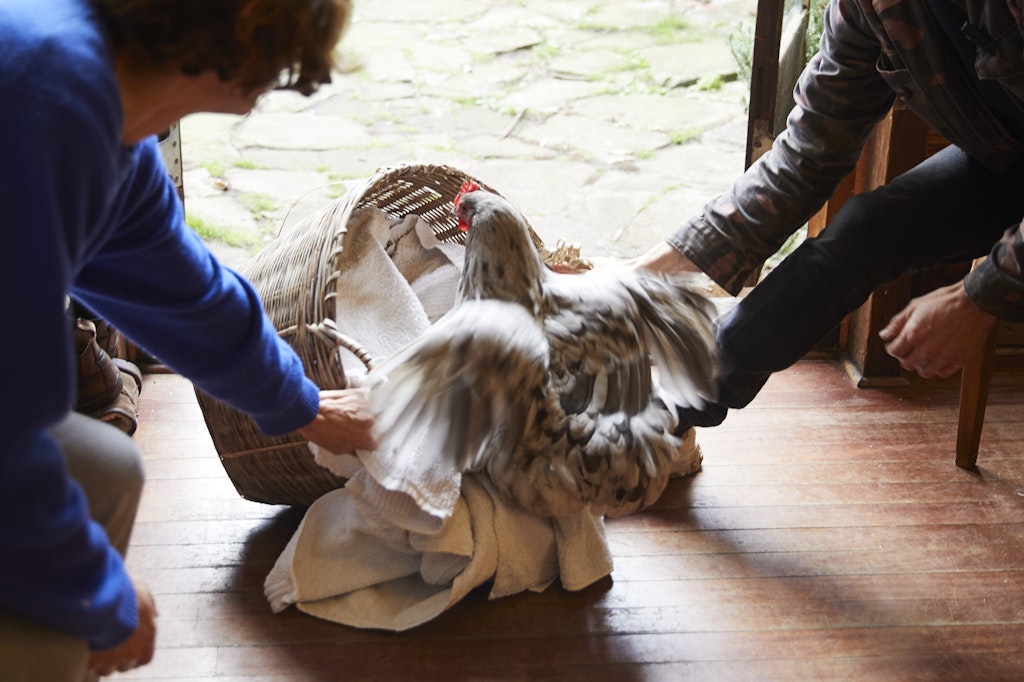 John Saxby visited Nathan Hawke's home/studio with Gallery photographer Felicity Jenkins in the lead up to the 'Real Worlds' exhibition. A version of this article first appeared in Look – the Gallery's members magazine. The artist talks more about his work and his home/studio in the following video.