A world of ideas in miniature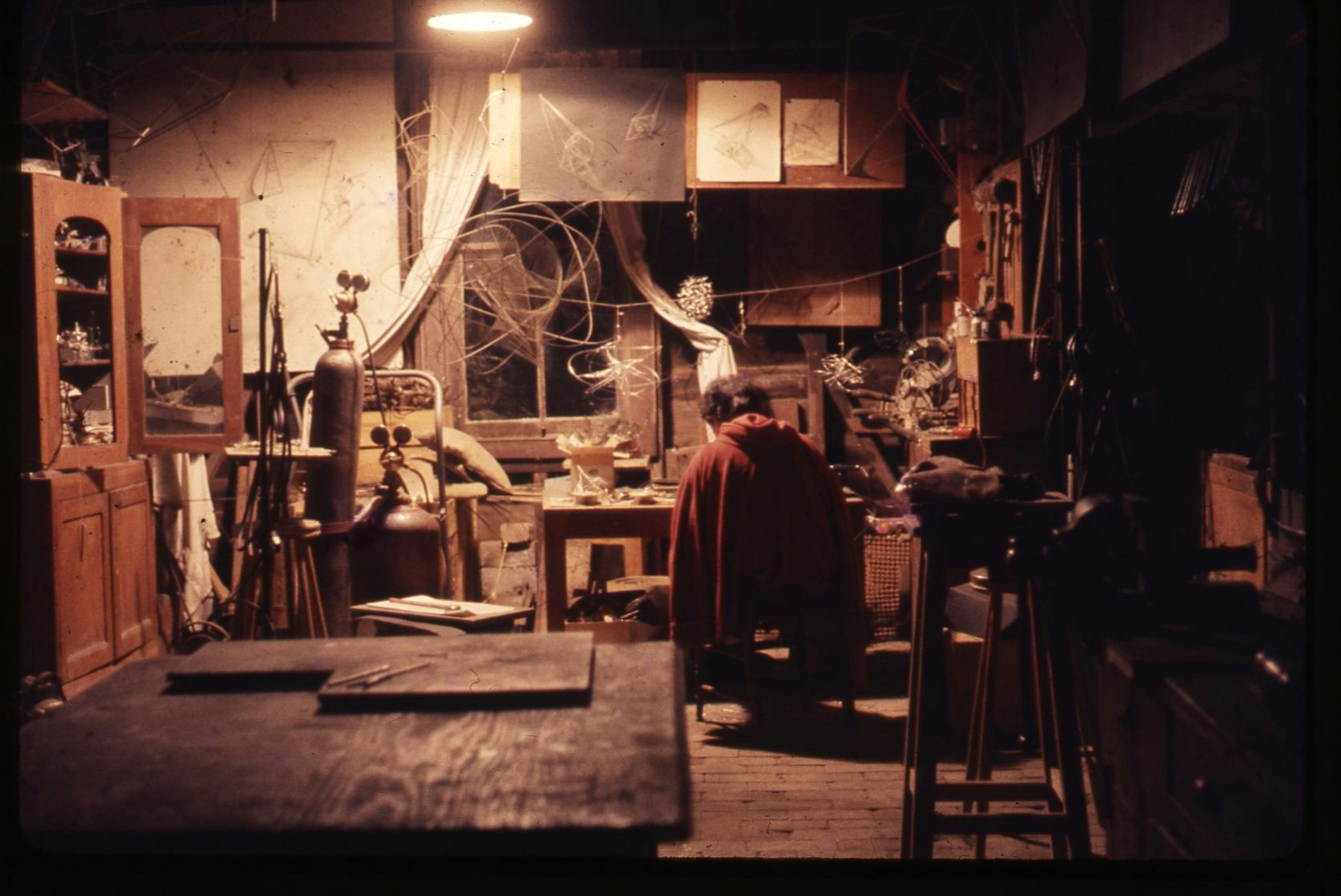 With her pioneering spirit and capacity for problem solving, Margel Hinder (1906–1995) was one of the most important and dynamic Australian sculptors of the 20th century. Her embrace of new methods and materials, and fascination with light and movement, helped signal a new era for sculpture in this country. She trialled and mastered a range of alternative techniques, was among the first to use Perspex in her work, and developed a range of ways to bring the elusive fourth dimension – movement – to her sculptural forms.
Hinder considered every view or aspect when designing sculpture, and used intricately detailed maquettes (small preliminary models) to develop her vision of planes and shapes in three-dimensional space and to rigorously work through sculptural problems. She created a technique where she joined fine fuse wire with low-temperature lead/tin solder to enable her to quickly record ideas in the round – a process she referred to as three-dimensional drawing.
The Hinder maquettes held by the Art Gallery of NSW offer a glimpse into a curious, gorgeous miniature world of sculptural ideas. We can see some of these ideas later transposed into final large-scale works; however, other maquettes are for public commissions that never came to fruition, while others now serve to document completed public sculptures that were later destroyed. The collection is subsequently varied between roughly wrought, burgeoning concepts – poorly wetted solder joins, overhanging wires, and bits of cardboard and adhesive tape bear testament – and more finessed forms.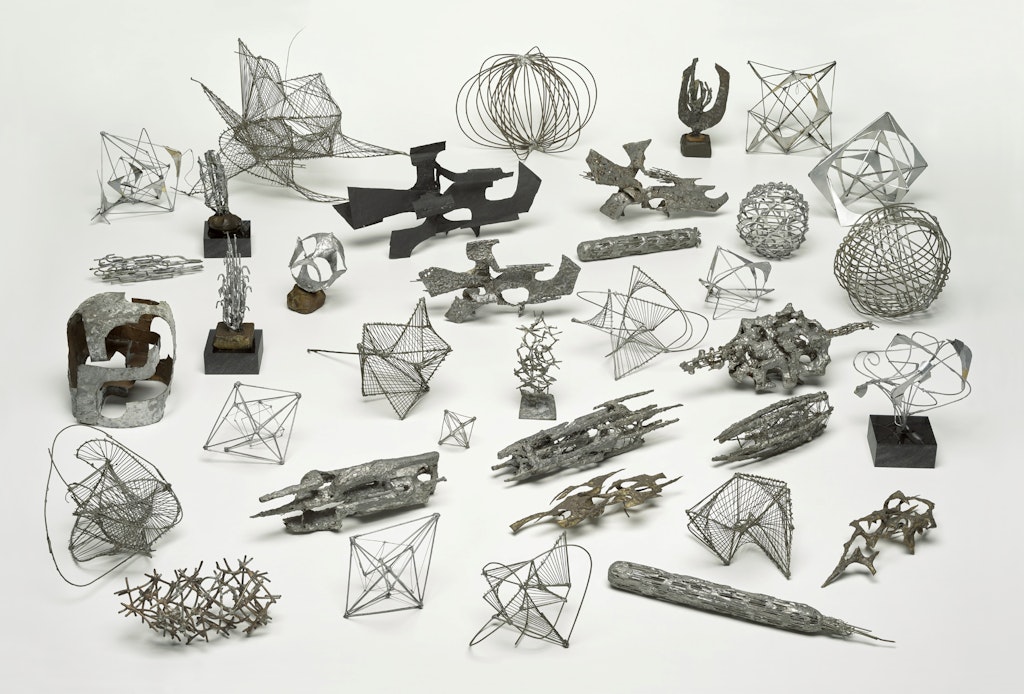 After a prolonged period of storage and obscurity, these miniature treasures required conservation treatment. Accumulated dust and dirt marred the fine wires and surface texture, so this was very carefully removed using a dental vacuum, a pipette and tiny brushes to reveal gold and silver coloured surfaces.
The thin flexible wires of the geometric shapes were susceptible to handling damage, and numerous broken solder joins had resulted in loose or completely detached wires. As part of our treatment, the effected joins were resecured with a conservation-grade adhesive held in place with miniature clamps, repairing the intended linear composition. Some maquette components had become completely detached due to the failure of the original adhesive, and the treatment progressed like a three-dimensional jigsaw puzzle with a tentative reuniting of parts within the whole.
Photographs from Margel Hinder's archive, held within the Gallery's National Art Archive, proved a valuable resource, showing the original condition and location of extant pieces. These images also highlight the role of the maquettes as functional mini models for future (often unrealised) monumental sculpture. Some of the maquettes are depicted within architectural landscapes, clearly showing the consideration Hinder gave to perspective, light and scale.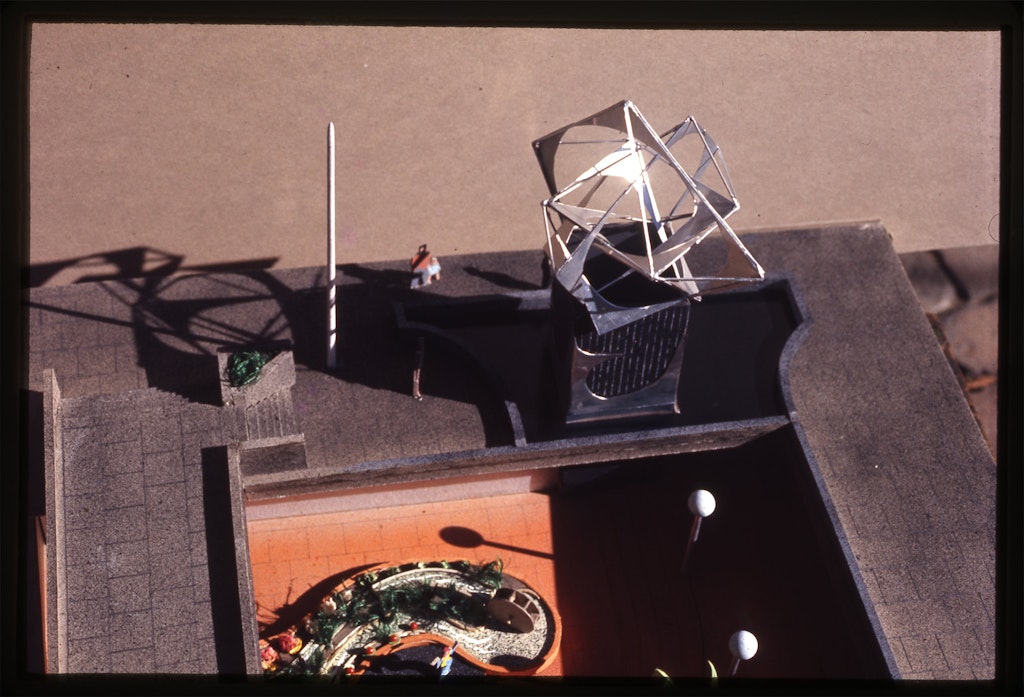 Another problem that was encountered with some maquettes was the yellowing of adhesive over time, which had disfigured the metal surfaces. In these cases, solvents thickened into a gel were used to saturate and soften the hardened adhesive, which was then removed. The metal surfaces were then cleaned with solvents, so that once again they reflected light and appeared sharply planar.
Hinder experimented with metallic colour and light in many ways. She not only employed a variety of metals such as lead/tin solder, aluminium, monel and copper in her maquettes but also used metallic pigmented paint to replicate metal surfaces, including silver spray-painted adhesive tape to secure card and paper components, also sprayed silver. Notoriously short lived, the sticky tape used by Hinder had failed in many instances. To stabilise the objects, a replica pressure-sensitive had to be developed. For this, a smooth glassine paper was sprayed in an acrylic silver paint and an archival adhesive was cast and applied to the verso.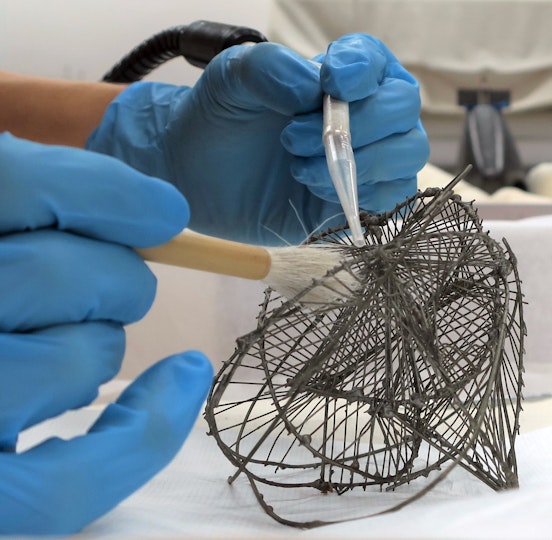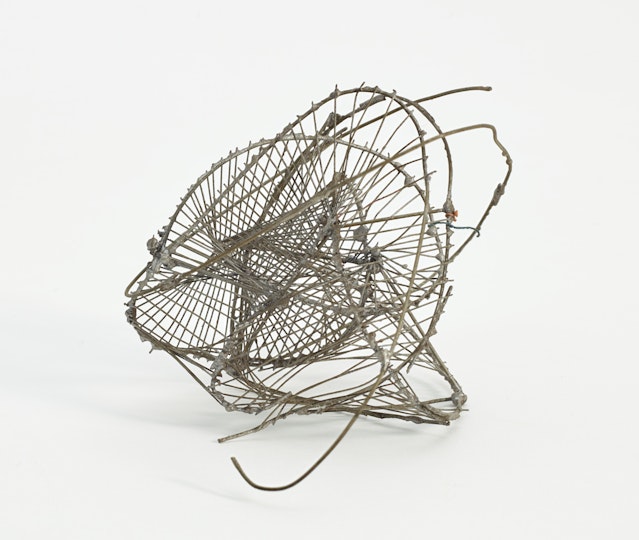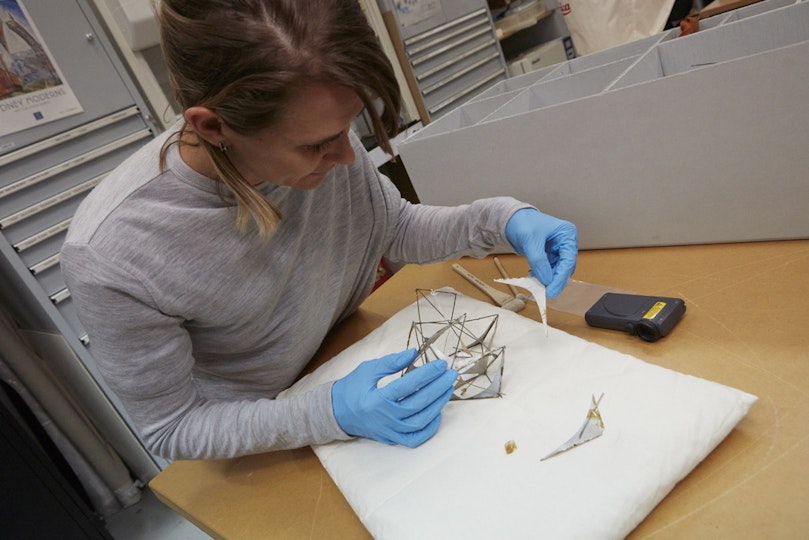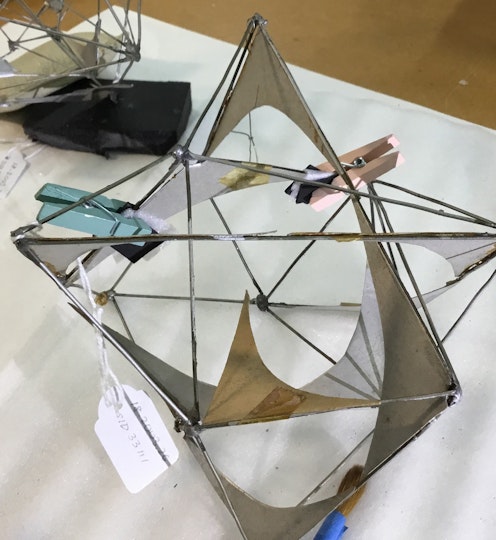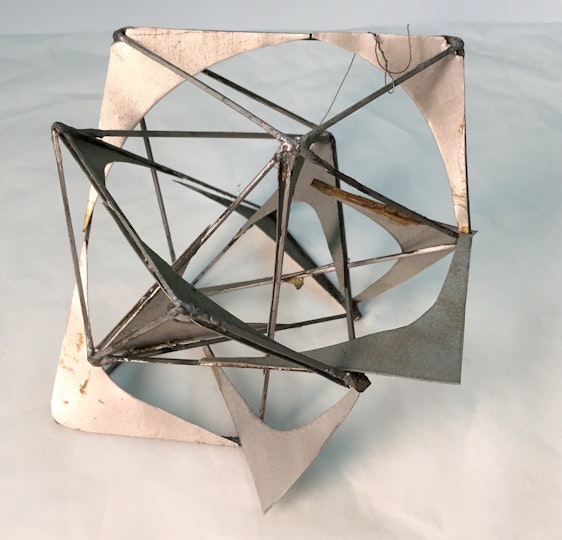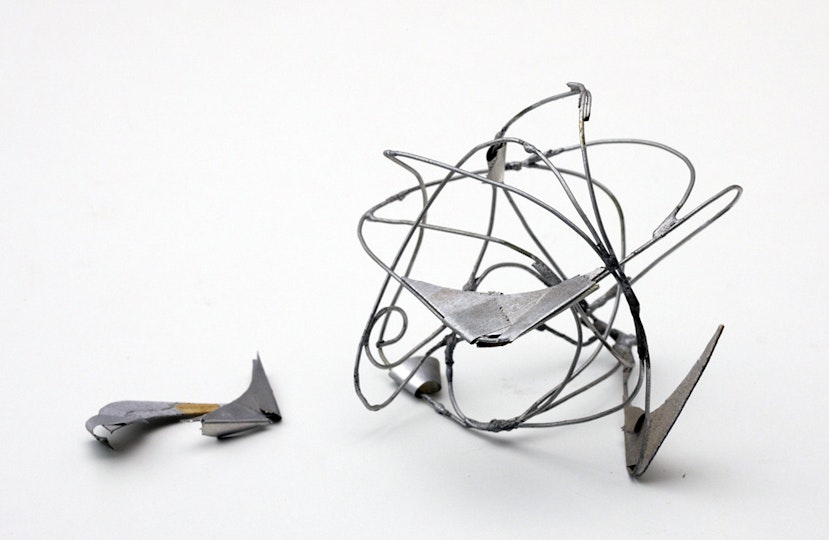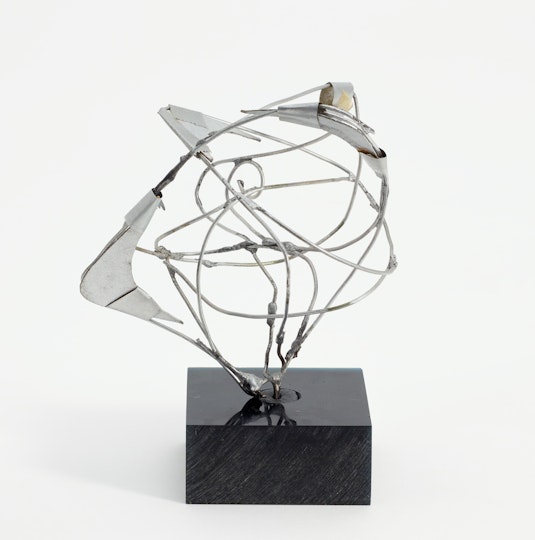 The conservation of Hinder's maquettes at times required collaboration between conservators with different areas of expertise. Model for 'Wall design' (also known as Sketch for 'Gemini') is one such case: objects conservator Melanie Barrett cleaned and stabilised the three-dimensional wire components, while paper conservator Lois Waters retouched visually distracting tidelines (localised liquid stains with dark edges, caused in this case by the movement of the water-soluble colourant in the paper) on the paper support board.
Although maquettes were central to her creative process, Hinder also produced more traditional sketches in graphite on a variety of paper surfaces, and many of her sketchbooks and preparatory drawings for maquettes are held by the Gallery.
In Hinder's drawings for maquettes on tracing paper, graphite lines act as a substitute for the thin fuse-wire, and occasionally in the interstices small areas of coloured pencil suggest coloured Perspex additions. Hinder has pushed these drawings into the three-dimensional plane, creating grooves in the paper with heavy line-work, while also working on both the front and back of the sheet to create a greater sense of depth.
When considering conservation treatment for these drawings, it was important to carefully balance conceptual and preservation concerns as tracing paper can be particularly fragile and water sensitive. The drawings were first stabilised by repairing small tears. To preserve the integrity of the drawings as working sketches, only sharp creases that might otherwise result in losses were humidified. The drawings were then float-mounted using very lightweight hinges and dry starch-paste into a window mount, to allow for inherent undulations in the support and give the drawings a feeling of lightness and space when on display.
Hinder's sketchbooks also clearly demonstrate her focus on light, form and movement. They are filled with renderings of starkly illuminated figures, landscapes and abstract forms, deeply indented ruled linework which resists the flatness of the two-dimensional plane, and looser sketches depicting figures in motion, particularly apparent in a sketchbook dedicated to drawings of children on swings. Her sketches also demonstrate her highly exacting approach to her output; she frequently reinscribes lines, working until she captures form, illumination and gesture with sufficient accuracy.
Conservation treatment of the sketchbooks focused on stabilising existing damage and gently encouraging the pages to move freely, and involved surface cleaning, reducing deposits of rust on the spiral bindings, repairing tears and reinforcing vulnerable areas on the covers. Many of the front covers had split along the perforations in the spine, requiring the placement of carefully shaped repair strips. For this purpose, a strong, lightweight tissue was trimmed to size, and equidistant perforations were made with a Japanese screw punch to neatly accommodate the spiral binding. Simple tailored mount-board supports were constructed for each book to protect the vulnerable areas surrounding the spine during display.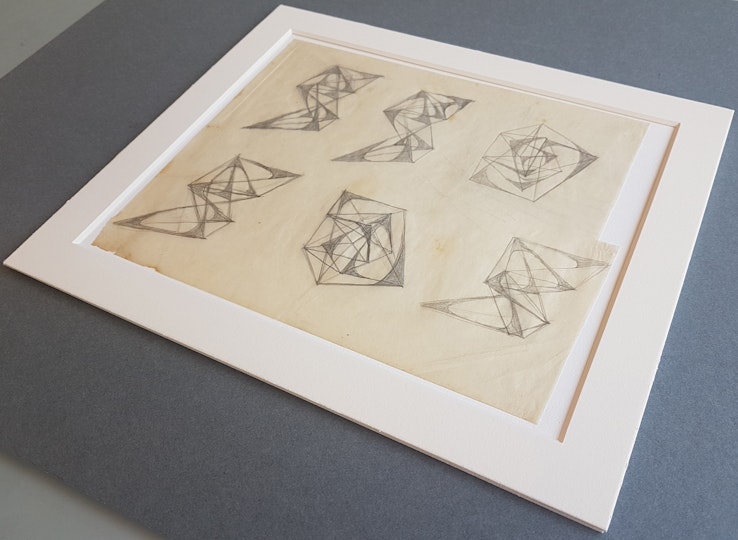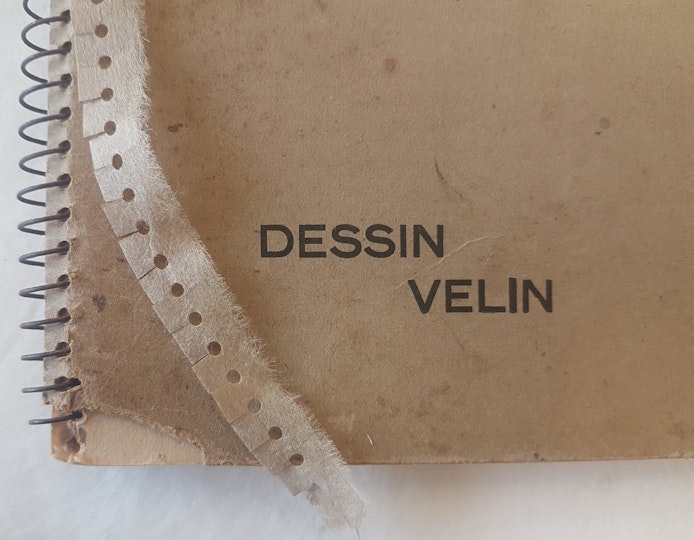 A selection of Hinder's maquettes and drawings are included in Margel Hinder: Modern in Motion, the first dedicated retrospective to this artist, which is on at the Gallery from 30 January to 2 May 2021, before touring to the Heide Museum of Modern Art in Victoria.
The treatment of the maquettes was funded by the Gallery's Conservation Benefactors with further conservation work for the exhibition supported by the Women's Art Group.
All artworks © Estate of Margel Hinder