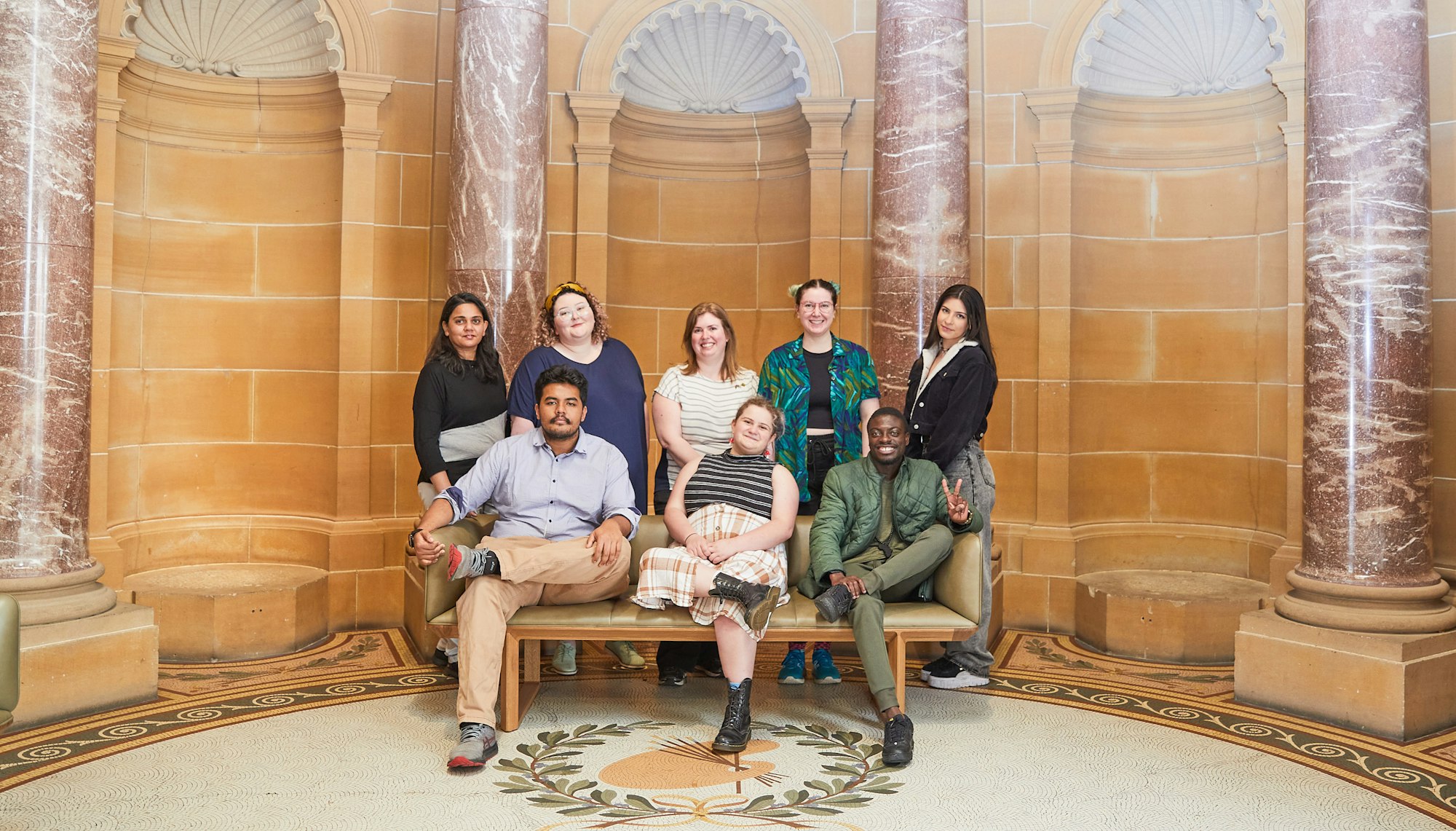 Among the 35,000-plus artworks in the Art Gallery of New South Wales collection, for each of us there are some special works that grab our attention and speak to us on a personal level.
Recently, eight artists were invited to choose works in the collection that particularly resonated with them as part of a series of discussions for the Emerge 2021 program, in which they are creating work for an exhibition at the Front Up Studios next year with the theme of 'time, memory, connection'.
Emerge is a collaboration between the Art Gallery and Front Up Studios, a Western Sydney-based arts and culture program and hub – founded by Ability Options – which provides professional development for artists with disability.
Our organisations have been working together since 2016, supporting the emerging artists selected for the program to deepen their creative practice and build networks, skills and confidence.
In 2021, COVID-19 impacted the way the program was delivered, with much of it taking place online. In Zoom sessions with artist/facilitators Rosalind Stanley, Liam Benson and George Tillianakis from Front Up Studios, each participating artist was encouraged to explore the Art Gallery's collection via the website then research, present and discuss the works and their own practice. Now, we've finally been able to welcome the group in person to the Gallery, where they are able to engage with staff and with the art on display.
We'd like to introduce you to the artists in this year's program and hear from them about the artworks with which they connected.
You can also join the artists for a panel discussion on 8 December 2021 for Art After Hours.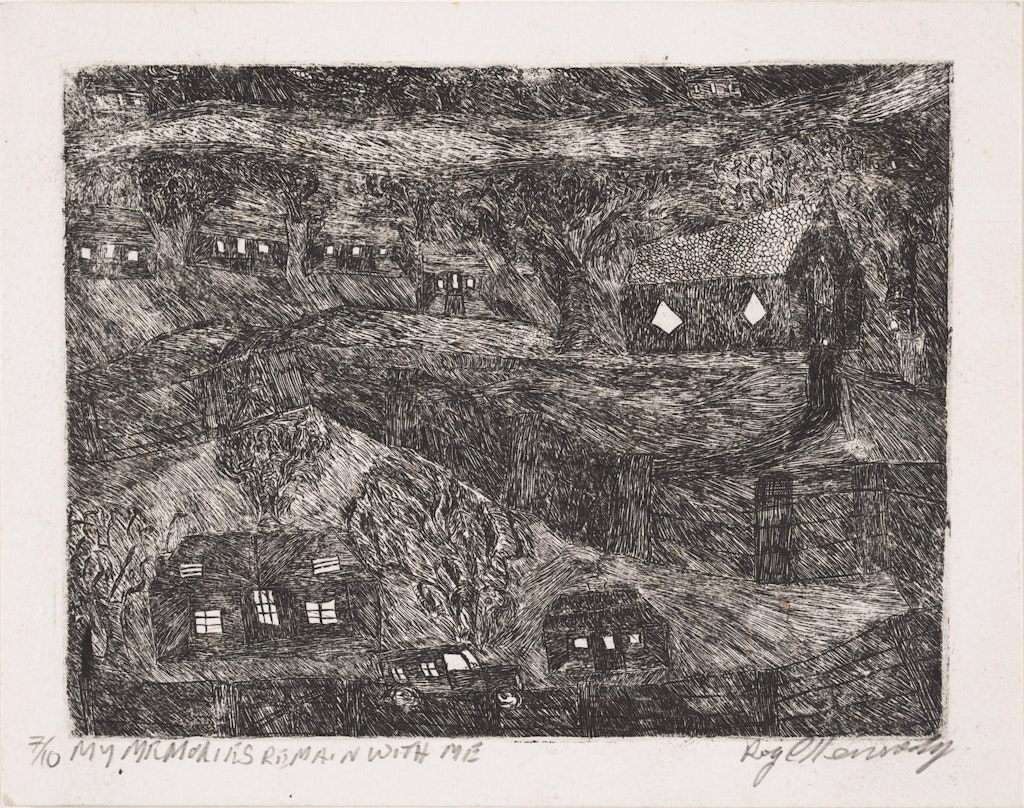 Ebony Wightman
With a background in illustration and graphic design, Ebony Wightman works in a diverse range of mediums including painting and ceramics. She was drawn to Roy Kennedy's work in the collection, in particular My memories remain with me 1998.
'Kennedy gives us a raw and emotional peek into his past that stays with you long after viewing his work,' she says. 'As someone who also grew up in regional NSW, I saw the effects of mission stations and reserves on our Indigenous population and I appreciate and acknowledge the privilege to hear Kennedy's stories and value his strength and vulnerability in sharing his own personal memories and experiences.
'In my arts practice I also like to reflect on my own memories and experiences. I believe sharing our lives through our art can be cathartic and empowering.'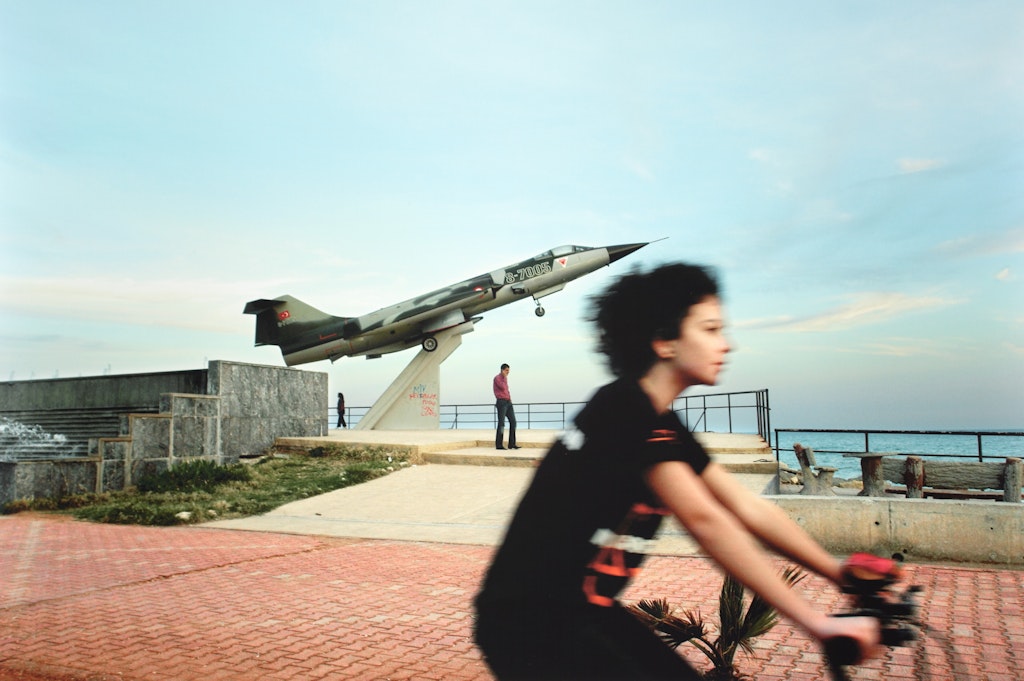 Zoe Tomaras
A theatre-maker, director, writer and teaching artist, Zoe Tomaras focuses on immersive and interactive work exploring role-play, choice and game mechanics. She was captivated by Mersin 2007 by George Georgiou.
'The blur of the bike whizzing by in real time, in such a stark juxtaposition to the war plane in the background, is not only unsettling but, in a way, hauntingly beautiful. A simple slice of life, but tethered to a country's violent history.
'The more you look at the photo, the more questions are raised. What are the people in the background doing? Where are they going? Can we really just casually walk by or ride past such a large reminder of our collective trauma?
'The bike rider is oblivious to not only her surroundings, but also her inactive participation in this artwork, which is what I find most informative to my creative practice as an artist. To me, this raises questions surrounding surveillance, choice, and how an audience interacts with a work of art; perhaps sometimes becoming the piece, or at least part of it.
Miah Tito-Barrat
With a theatre background, Miah Tito-Barrat is a multidisciplinary artist working with sound, experimental sculpture and installation. She chose William Dobell's 1969 painting The tired lady, because 'the way that the piece made me feel was surreal'.
When asked what stood out to her about this work and how she relates to it, Miah said, 'The texture of the painting, it makes the figure look ethereal … The figure reminds me of my grandmother who I haven't been able to see due to lockdowns and distance.'
And how has this artwork informed the work she is making for the Emerge program? 'Playing with memories both good and bad … In my piece I am exploring specific memories I have surrounding primary school and more specifically paper bark trees.'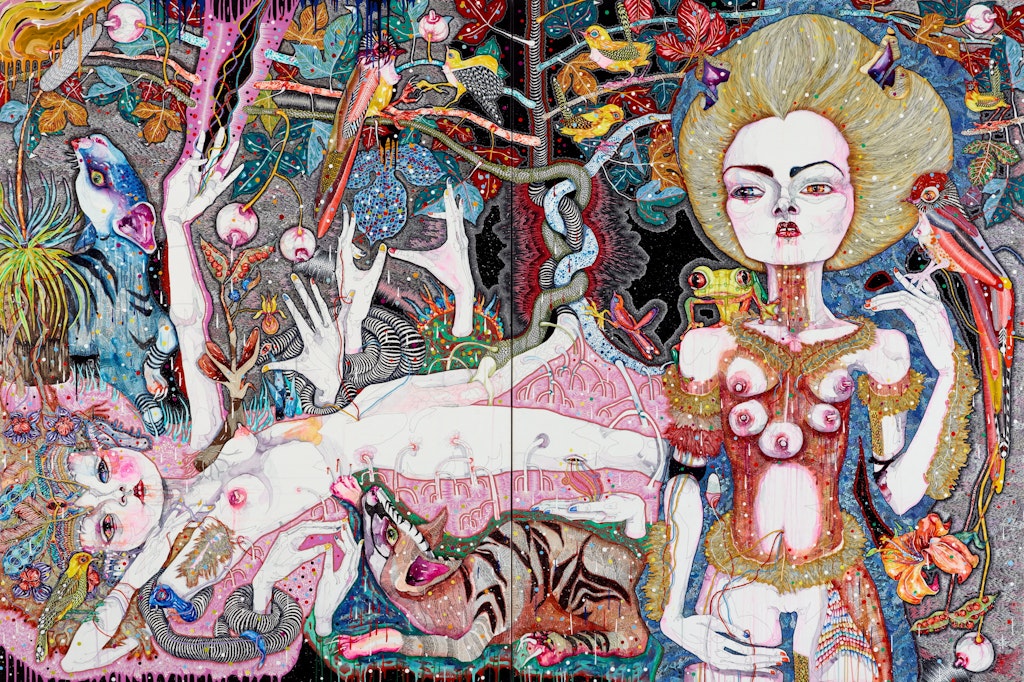 Jasmine Stanley-Dawson
Jasmine Stanley-Dawson predominantly works with painting and drawing, creating intricate pieces embedded with personal messages and utilising an abundance of colour.
'I chose come of things 2010 by Kathryn Del Barton because I was immediately intrigued by the intricacy of her work and all the colours she has used to portray mother nature. The females look like they are strongly connected to the Earth and are sharing their energy with the environment and the animals surrounding them. I relate to the women having strong energy and connection to everything around them.
'Similarly in my artwork I show my strong connection as a child with my mum and as a result I took her pillow case with her scent on it and called it "Casey" so I would always be close to her.'

Khyati Gathani
Khyati Gathani is an experimental artist with a background as a jewellery professional, working with painting, handmade mixed media and ornamentation. She says:
'I connected with the artwork A rose is a rose (Marvin) 2005 by Denise Green because it made me think about the transformation the rose goes through. A flower retains great beauty. It is love and love lost … The different stages of the rose represent our stages of life. How we grow and out-grow. The work reminds me how I want to hold on to loved ones and their memories …
'Talking about the artwork inspired my practice by helping me tap into connections within memories. The effect was subliminal … Through working with my materials and brainstorming ideas, to my surprise I ended up creating a work with flowers.'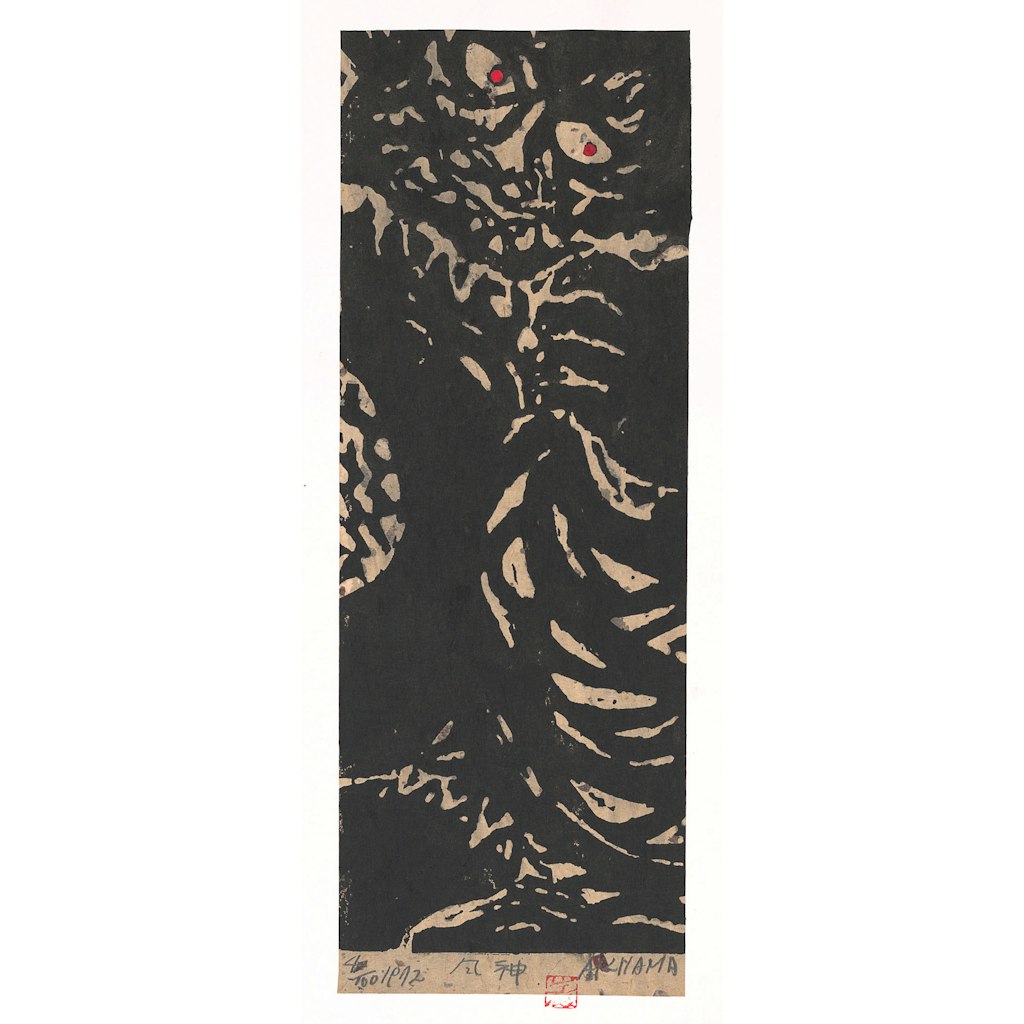 Harry J Dogra
Harry J Dogra works predominantly with digital media and works on paper using pen and ink, brush pen and graphite pencil, often depicting human figures and landscapes. His interest in depictions of divine entities drew him to Wind god 1972 by Akiyama Iwao.
'The foreboding dark look truly stood out to me. The use of sporadic paint strokes helped lead to a sense of destruction … I believe I relate to a strong sense of horror and dread in the media I consume.'
The artwork – which he feels represents 'the dread of reaching the end of your time' – has inspired Harry to embrace the use of dark toned colours for his own work for the Emerge program, for which he will use pen and ink.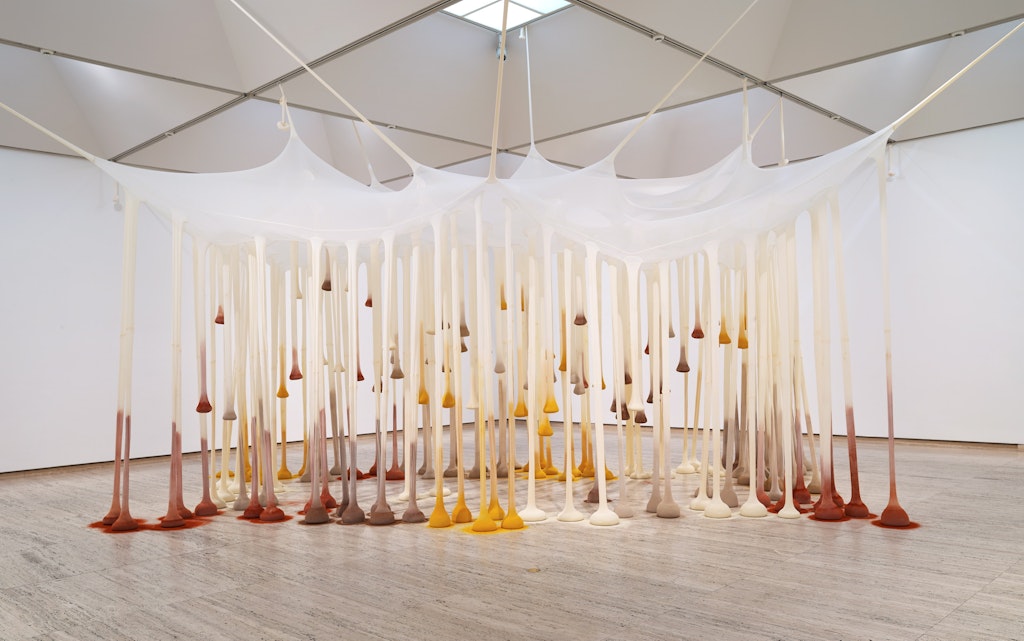 Renae Curran
Renae Curran is a registered art therapist and multidisciplinary artist who works with collage, painting and embroidery among other media. She chose Ernesto Neto's Just like drops in time, nothing 2002 because she had seen the work in person during the Spacemakers and Roomshakers exhibition at the Art Gallery.
'What stood out to me was that I could smell the installation before I saw it because of all the spices. That's what I really liked about not just Neto's piece, but a number of other installations within the exhibition. There were pieces you could smell, ones you could touch – it was unlike most other exhibitions I had been to.
'Often art galleries can be seen as intimidating, because art is normally something you can't touch. Art that engages more than just our visual senses can be so powerful. Other senses, such as touch and smell, can be really powerful in triggering our memories and in helping us engage with artworks. Art is not just something to be seen, but something to be felt.'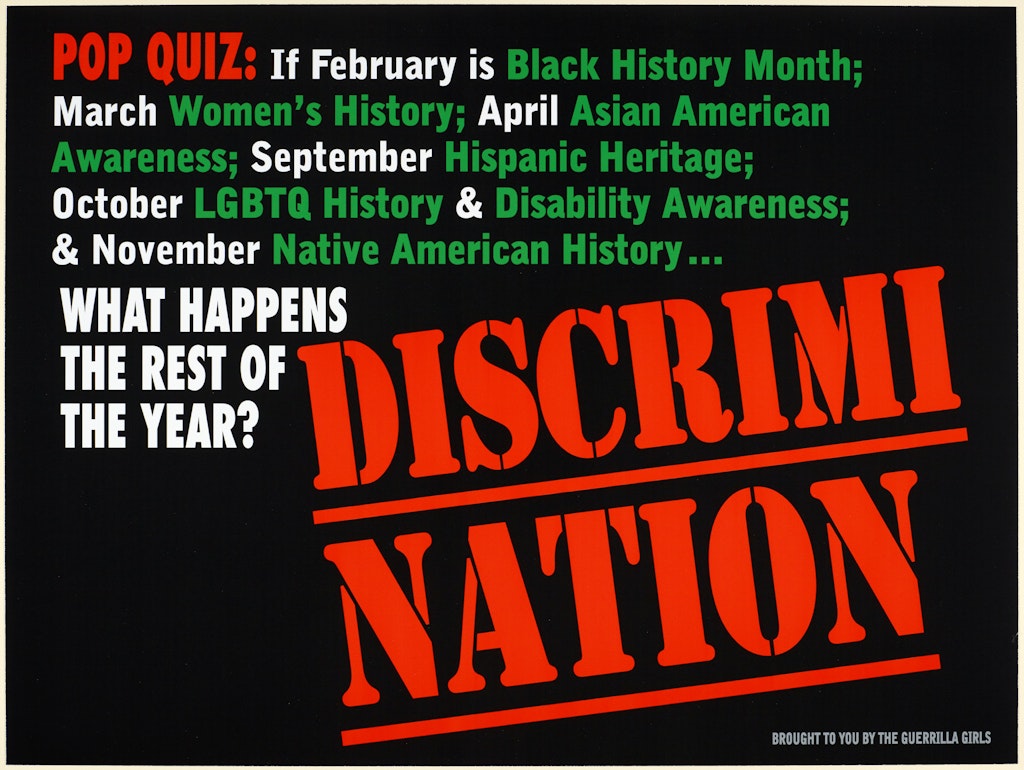 Emmanuel Asante
Self-taught artist Emmanuel Asante works predominantly in painting and drawing. His art practice is highly influenced by his West African culture.
He told us: 'Guerrilla Girls' Pop quiz (update) 2016 has influenced my creative practice, as I am using symbols in the new work which I am creating for the Emerge program and exhibition. I like how the artists used typography to create an artwork … Colours and text are personally important to me.'
The work poses the question: 'If February is Black History Month; March Women's History; April Asian American Awareness; September Hispanic Heritage; October LGBTQ History & Disability Awareness; & November Native American History … what happens the rest of the year? ' The answer it gives: 'Discrimination'.
'The artwork talks about months being dedicated to a special event and time of awareness, which questions our awareness during the months which aren't mentioned in the list,' says Emmanuel.