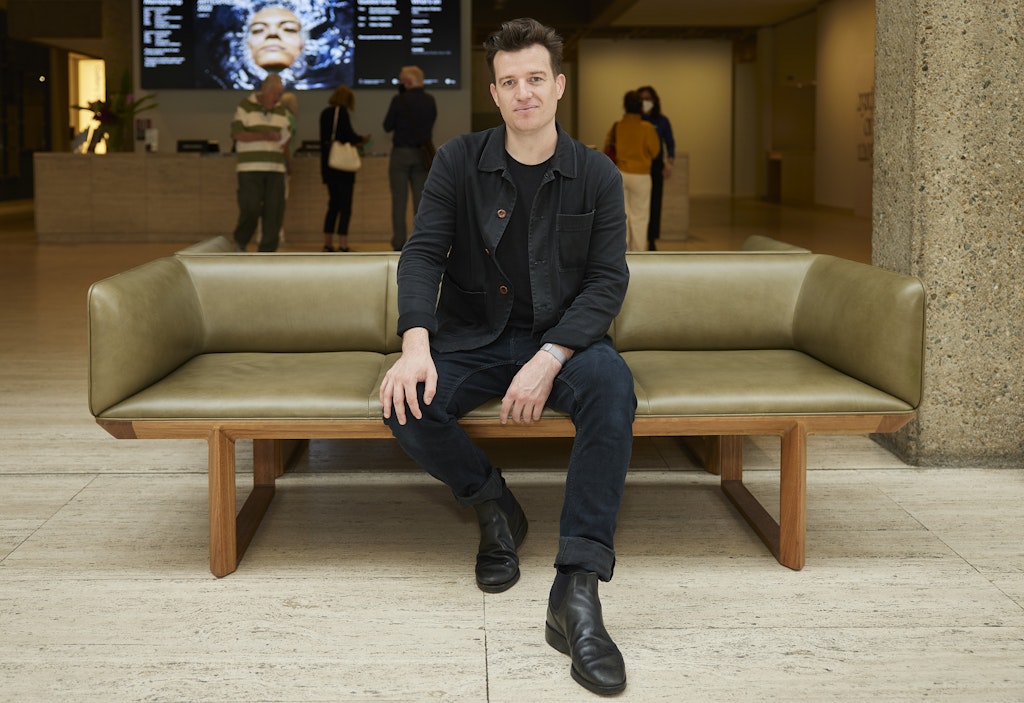 Tom Fereday's first collaboration with the Art Gallery of New South Wales was to design and develop seating for its public spaces. The resulting ottomans and lounges, more than 35 in total, debuted in October 2021. 'It was a really interesting brief,' the Sydney designer says, 'because you're making something that sits dead centre in every room. Yet it must be quiet and sympathetic to the space, and not loudly distract from the artworks.'
Inspired by the architecture of the Art Gallery itself, the seating's features include handcrafted timber frames made from sustainably sourced Australian spotted gum, slender proportions and fine leather. 'It was also important that we made sure they were comfortable,' he adds. 'The first day we installed them, ten school children raced up and sat on one, which I thought was fantastic. It was nice to see how people use them.'
Soon, more than 30,000 members of the Art Gallery will be able to do the same thing (just not all at once). The designer's second collaboration has been furnishing the new-look Members Lounge, which opened on 27 June 2022.
'So, we were not only designing furniture from the floor plan, but designing it in collaboration with the architects, Tonkin Zulaikha Greer, to suit the entire space.'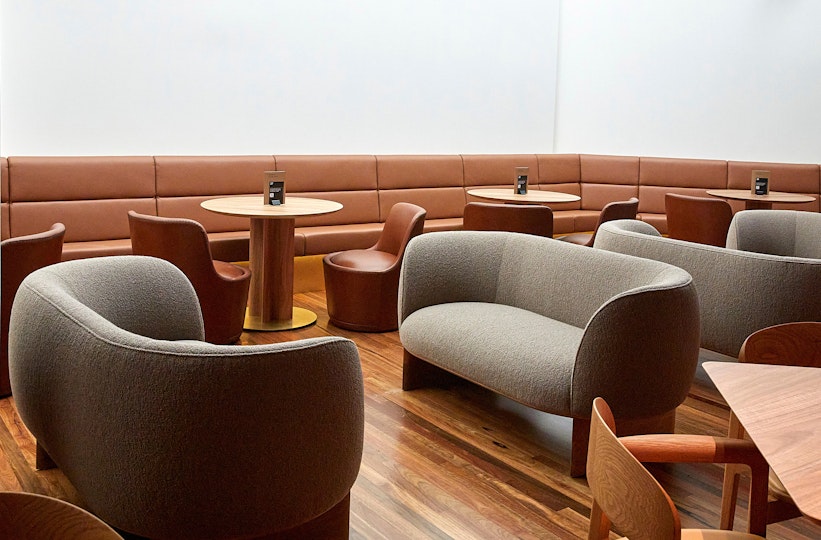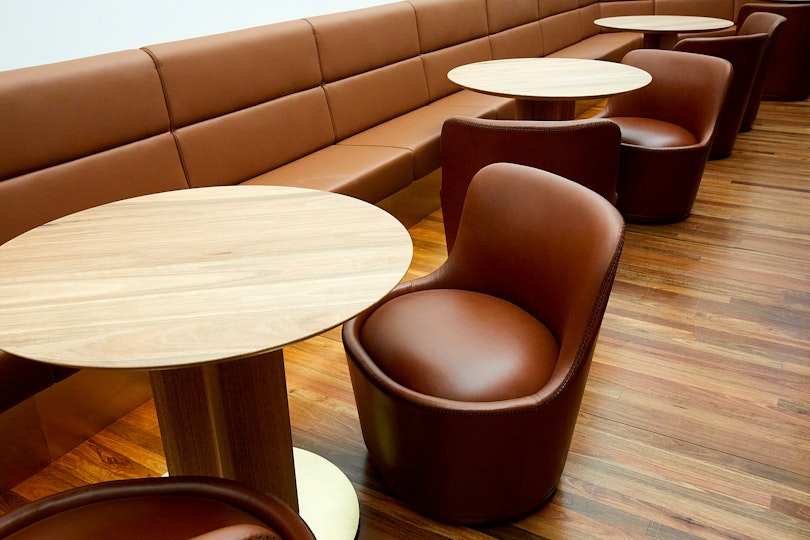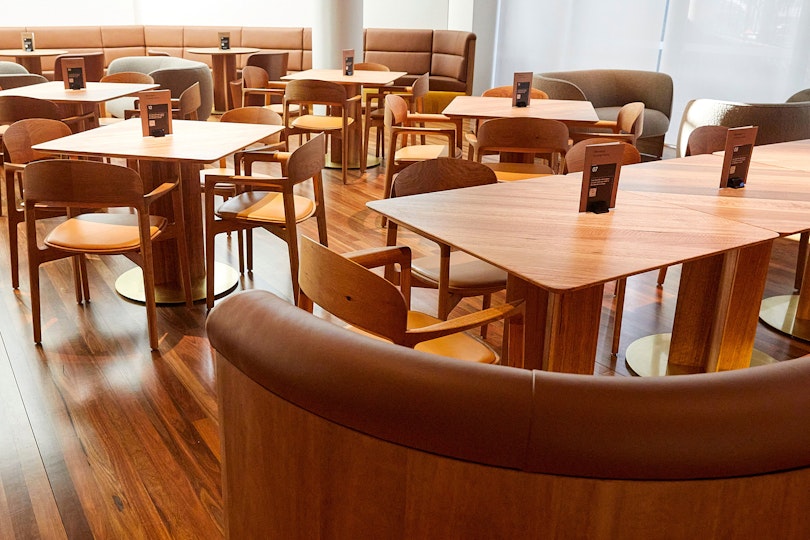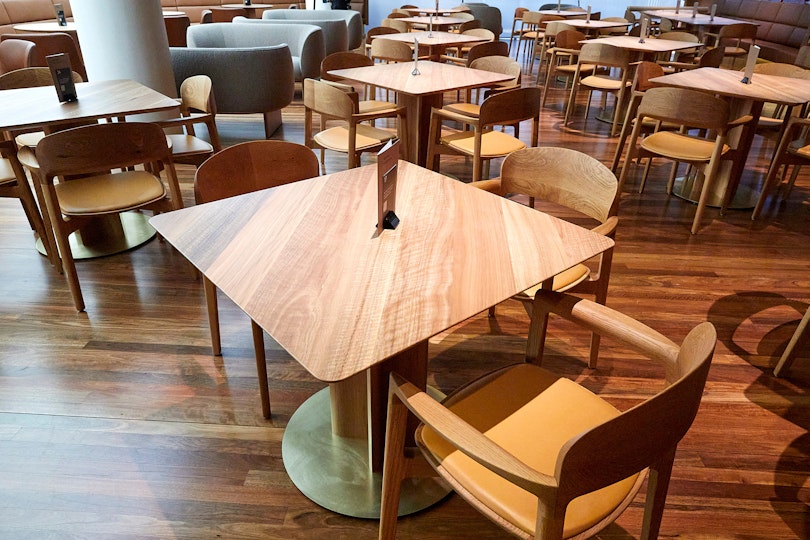 As part of the Sydney Modern Project, TZG has worked on the revitalisation of the existing building, including the upgrade of the Members Lounge. 'Fortunately, we were able to produce bespoke furniture for the entire space,' he says. 'Often, for a space such as this, only some bespoke items will be made. To be one designer throughout is quite special, as it allowed the entire space to be thought about.' The space is sure to become a magnet for long-time members, newcomers and staff alike. Stage two of the project involves a proposed shared garden with the adjacent library.
Decorated with a material palette of timber, leather and brass, including a 10-metre brass bar, leather couches and a 20-metre leather and brass banquette, the new lounge features spotted gum flooring and a gridded timber ceiling, the joinery of which echoes the gridded concrete ceilings elsewhere in the Art Gallery. The timber and leather cafe chairs favour longevity and material integrity over stackability. 'Strength, durability and comfort for all ages were all important considerations,' Fereday says.
'Every product we work on is a celebration of the material it's made from. So, the timber chairs are designed around expressing the grain in the most beautiful way we can, to make something that is tactile and engaging.
'There are a set of principles to every project we work on in the studio and fundamental to that is longevity and respect for materials,' he says. 'We want these products to be here for as long as possible.'
Born in Australia, Fereday grew up in London and studied sculpture at the Wimbledon School of Art, before returning to Australia to study industrial design at the University of Technology, Sydney.
'I was overwhelmed by art's lack of restraints – where you build your own brief,' he says. 'What I really enjoy about industrial design is that you have a specific problem to solve. There are ergonomic constraints and scale constraints. And creating something unique within a set of boundaries was a challenge I really liked.
'But I also hope my past studying art helps inform what I do with furniture. I don't think there's necessarily a black and white separation between furniture and art. It's more blurred. My art training is definitely a part of what I do now, but I wouldn't call myself an artist.'
He is much happier with the term 'collaborator'. For the Art Gallery furniture and Members Lounge that has meant working closely with the Gallery and TZG over a number of years. 'My whole career has been founded on collaboration,' he says. 'Together you often create something that neither of you could have produced alone.'
A version of this article first appeared in Look – the Gallery's members magazine
John Saxby, editor of Look, is currently senior editorial advisor, Sydney Modern Project communications