Existential bread: the facade
In this annotated playlist, DJ, artist and curator Ayebatonye Abrakasa interrogates the colonial legacy of the Art Gallery and responds to works from the collection.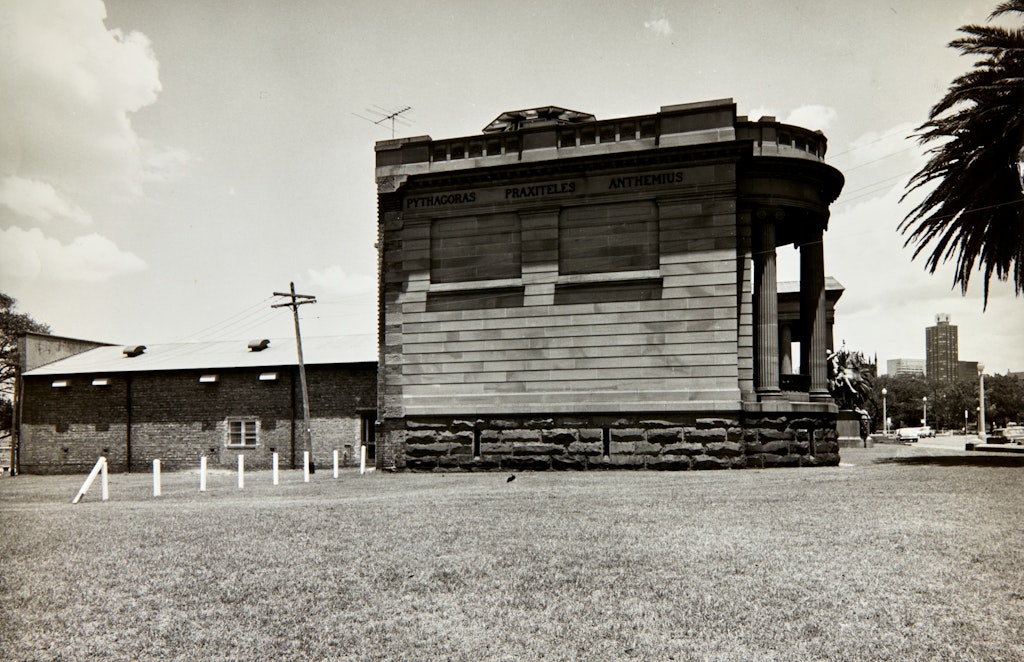 As we observe this Mardi Gras season and come together for Queer Art After Hours, this playlist serves as a reminder to not be caught up in the sometimes optics-driven markers of progress, and of the importance of remembering the history of the Sydney Mardi Gras and its origins as a violent protest in 1978 that redefined the way LGBTQIA+ folk were treated. It is also a reminder that we remain on Aboriginal and Torres Strait Islander land and, despite the progress that has been made, there is still a significantly long way to go.
The inspiration for the playlist's title – Existential bread: the facade – was drawn from an image featured in Wiradjuri artist Brook Andrew's installation Tombs of thought: earth, which brings together objects from the Art Gallery's archive.
The photo of the 'art barn'that once stood behind the Art Gallery's sandstone facade (pictured above) immediately piqued my interest. The image of a brick structure with a corrugated iron roof and a face adorned by Grecian pillars felt symbolic, speaking to the reliance on aspiration that Western society leans so heavily into.
I chose these tracks because some interrogate facades while others embolden them. Some are also a direct response to specific artworks on display in the Victorian-era galleries of the Grand Courts, housed within red walls that pay homage to the colonial historic tradition. Experienced as a soundtrack for these spaces, the playlist asks: at what point do we stop romanticising violence in the past and present and observe these events in their entirety so we can move towards repair? Aspiration isn't inherently negative; however, when it dismisses reality, it is.
You can listen to the playlist on Spotify.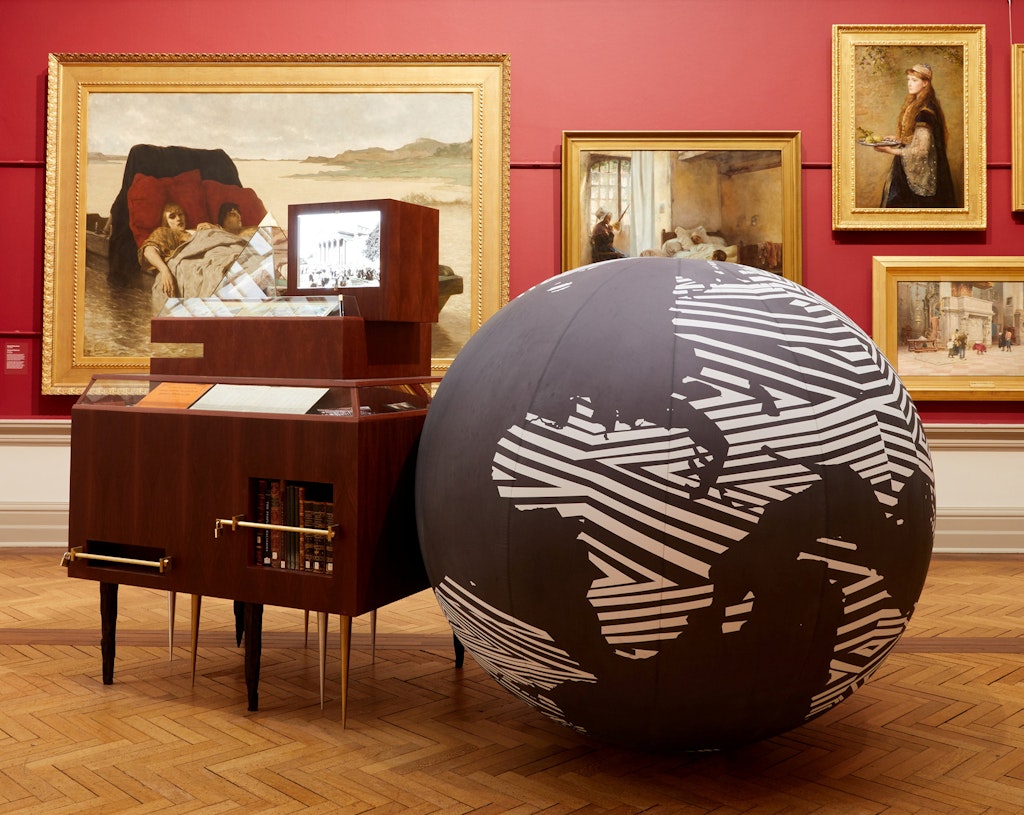 Artist: The Clash
Track: 'Armagideon time'
This song serves as a reminder of the fact that, in spite of the progress made, we're still a long way from reckoning with our violent past. Originally recorded by Jamaican artist Willie Williams, 'Armagideon time' was released by The Clash as a B-side to their single 'London calling'. During the band's 1982 tour of Australia, Gumbaynggirr man Dr Gary Foley toured with them and advocated for First Nations people and the working class through rap dubbed over the song.
A lot of people won't get no justice tonight / The battle is gettin' hotter / In this iration / Armagideon time
Unfortunately, there is no official video or audio recording online of these performances, but there are photos of Dr Foley and The Clash on the Koori History website and a video of The Clash performing the single in the US in 1983.
Artist: Tygapaw
Track: 'Get free intro', featuring Mandy Harris Williams
This album and its intro track is something I will always come back to and be astounded by every time. It's a beautiful reminder to me of something a lot of us (if not all) seek: liberation. We're all trying to get free in some way or another. This is for all the people who paved the way for us to enjoy the freedoms we have today. 
The ground shifted beneath her feet / Could she move them as well? / It had been hard to get the others to hear her out initially / She felt instead, release / Some of us had to get free, and some of us might / This liberation feels like a crush
Artist: Sachém
Track: 'Democracy', featuring Nenjah Nycist
Within our society, we not only have a tendency to preserve European antiquity through structures and objects, but also through theories and systems. Democracy, with its roots in ancient Greece, implies equality and the collective participation of all people in decision-making for the benefit of all. Yet as the song 'Democracy' by Meanjin rapper Sachém highlights, democracy, much like the concept of justice, doesn't offer what it's supposed to for Bla(c)k people globally. As Sachém raps, 'Actions over captions, that's how I define you'. Working outside of colonial frameworks by leaning into ancestral and cultural roots to create community-oriented solutions plays a key role in the path to collective liberation.
Artist: DJ Mujava
Track: 'Township funk'
Although DJ Mujava hails from South Africa and the artist John Ndevasia Muafangejo comes from Namibia, this track felt like an apt response to Muafangejo's 1974 artwork An interview of Cape Town University in 1971, given both artists spent significant time in townships and were both impacted heavily by the apartheid. Mujava's seminal work 'Township funk', released in 2008, played a key role in elevating African electronic music globally. This song was my entry into African dance music outside of Afrobeats. When I first heard this song I became addicted to the synthy hook and the syncopated drum rhythm that guides you all the way through the track, and I rinsed it on repeat. Despite both artists' cultural dispossession, their immense amount of talent and creativity meant they were 'granted' seats at the proverbial table. And yet what is a seat at the table if there is no interrogation of how power is distributed?
Artist: Gil Scott-Heron
Track: 'Whitey on the moon'
I remember the first time I heard this song. I was drawn to it because it spoke so clearly to the lack of equity that exists between race, gender, sex and class. It seems particularly poignant following the more recent conversations surrounding billionaires trying to reach Mars first. Meanwhile, here on Earth, many people continue to suffer from injustices caused in large part by the very people trying to leave the planet.
Artist: Dominowe
Track: 'Africa's cry'
Every time I hear this song I'm blown away by the literal battle cry that opens the track. Its title speaks of the impact that years of cultural desecration, violence and oppression have had on black South Africans. I'm a huge fan of Gqom music because in many ways – like a lot of music that utilises traditional sounds and language – it is a sound steeped in the resistance of colonial forces. The meteoric rise of this genre globally is testament to the prevailing power of the aforementioned cultures in spite of the repeated attempts of cultural erasure. Unlike Alphonse de Neuville's skewed artwork The defence of Rorke's Drift 1879 1880, this song celebrates the true heroes, the Zulu people. I wonder what stories have been passed down through the surviving generations of Zulu people whose ancestors were forced to defend their land.
Artist: Toya Delazy
Track: 'Resurrection'
Through 'Resurrection', Toya Delazy is musically rebirthed as she embraces her heritage and goes back to her Zulu roots, rapping in her mother tongue. When one takes the time to understand the history of the Zulu nation, there is a deeper understanding of the power in this reclamation. The vocal samples and heavy use of percussion – a common thread throughout a lot of African music across the continent – result in magic.
Artist: Rophnan
Track: 'Tefsa'
I was immediately drawn to Belachew Yimer's painting The legend of the Queen of the South 1941 (1933 in the Ethiopian calendar) due to his use of traditional iconography within a contemporary work. This artwork tells the story of King Solomon and the Queen of Sheba, as recorded in the Kebra nagast (The glory of kings), an Ethiopian national epic written in the ancient Ethiopian Semitic language Ge'ez. Similarly, the musical stylings of Ethiopian musician, producer and DJ Rophnan take root in traditional Ethiopian music while speaking to contemporary and futuristic sounds that reflect his current surroundings. Heralded as a leading figure in Ethiopia's next generation of artists, Rophnan is often known to pose in pictures with a side profile, mirroring the tradition of Ethiopian emperors and rulers who came long before him. In the song 'Tefsa', Rophnan inspires hope through his lyricism (translated from Amharic):
Even if I don't know what tomorrow holds / I will hold onto hope and never let go
Ayebatonye Abrakasa is a DJ, artist and curator of Nigerian heritage settled on Gadigal land. She is the founder/creative director of DIY arts platform Irregular Fit. Through her arts practice, Ayebatonye explores existentialism and absurdism as it relates to her surroundings, her identity and its intersections. As a DJ, Ayebatonye is best known for her eclectic sonic stylings, blending global electronic sounds, rich afro rhythms, house, techno, jersey club and more. She currently works as city manager of Sydney for online music magazine Resident Advisor.