Essential questions: Lisa Reihana
Artist Lisa Reihana spoke to Look magazine in the lead up to the opening of the Art Gallery's new building, which includes her work GROUNDLOOP.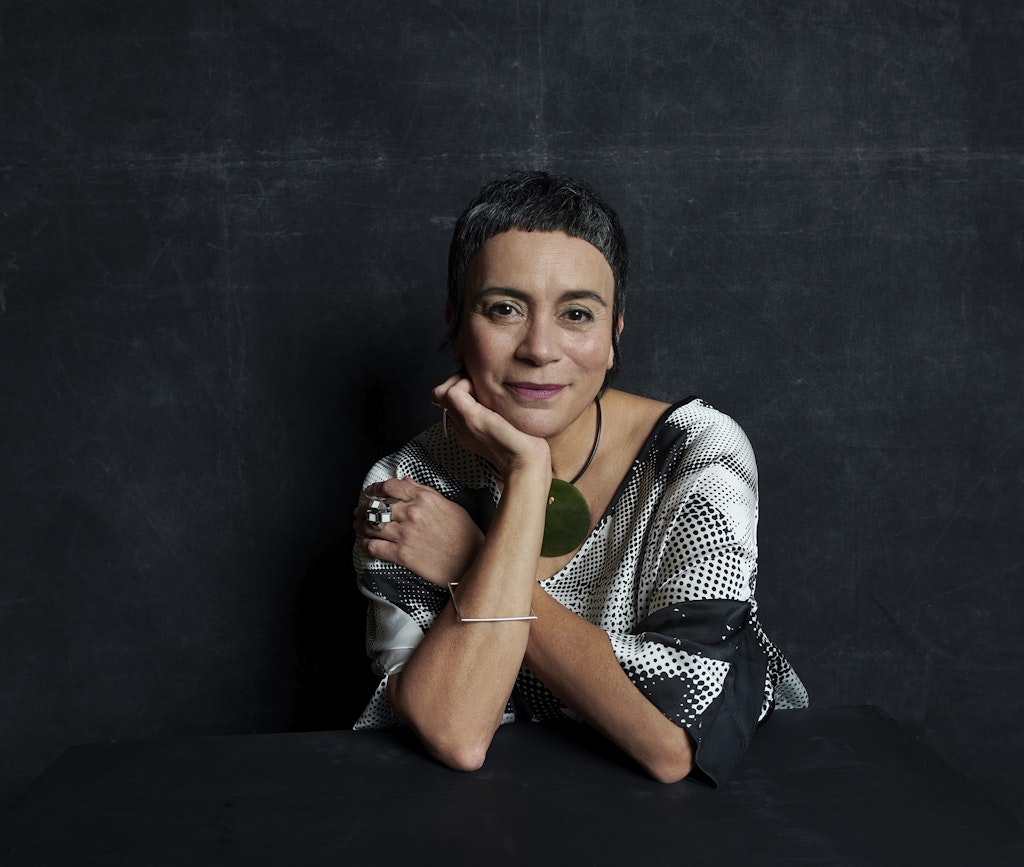 Māori artist Lisa Reihana (Ngā Puhi, Ngāti Hine, Ngāi Tūteauru, Ngāi Tūpoto) has created a monumental moving-image work that overlooks the central atrium of the Art Gallery of New South Wales' new building.
GROUNDLOOP 2022 charts a futuristic waka hourua (twin-hulled ocean-going canoe) journey from Aotearoa New Zealand to Australia. 'I've been travelling to Sydney for many years, but this commission has led to a much deeper engagement with Warrane [Sydney Cove],'
Reihana told Look. 'I'm digging beneath Sydney's surface to appreciate the deep cultural stories it holds. My hope is that audiences will appreciate our connections, differences, kinship and humanity.' Reihana is best-known in Australia for her immersive video work in Pursuit of Venus [infected] 2015, which draws from the 19th-century scenic wallpaper Les Sauvages de la Mer Pacifique to animate and return agency to the romanticised peoples of the Pacific.
Vast, swelling waves rise up as the waka makes its journey through GROUNDLOOP, playing with horizontal and vertical movement and shifting visitors' perspectives as they find their sea legs below. Set in an indeterminate future, the work foregrounds indigenous customs and cultural knowledge. 'I want to acknowledge the importance and respect that mana whenua [traditional land owners] hold for their land. Through embracing indigenous traditions in a futuristic context, GROUNDLOOP showcases how living consciously alongside the land and sea is the way forward for a sustainable future.'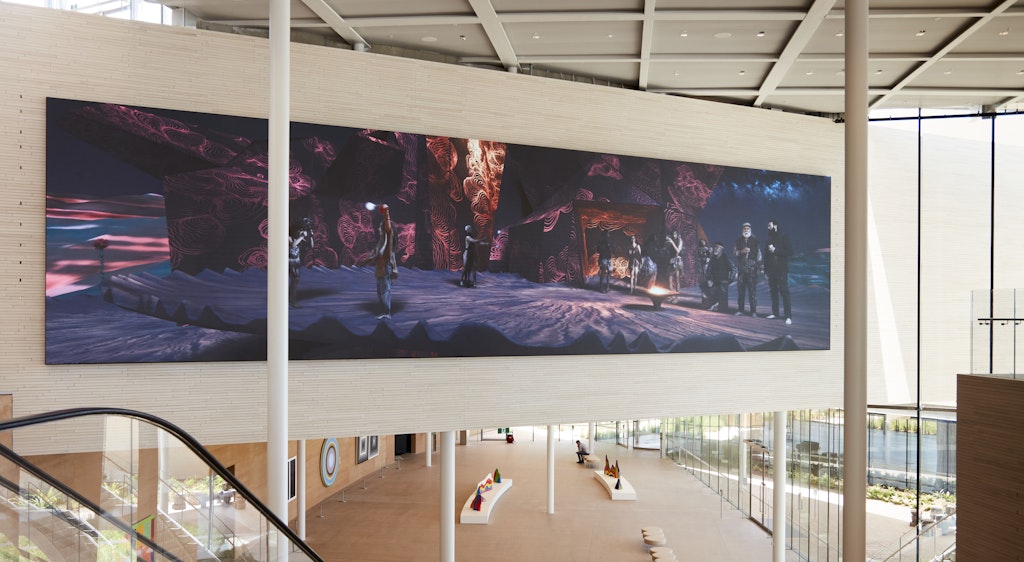 Why do you make art?
Ultimately it provides a space to be curious. I feel driven to create but quite frankly, deadlines help! I love the research, looking around and trying new techniques, all in service to learning about the world and its myriad permutations. It's an honour to collaborate with old friends and work alongside new people – building a community for the work. Filmmaking is an incredible process requiring incredible commitment and oversight, from scriptwriting to fundraising, conversations with elders and knowledge holders, dealing with cast and crew before the intense process of shaping the results into something cohesive. It's a magical way to share the ideas in your head with the world.
Can you think of a cultural experience that changed the way you see the world?
Outdoor dance festivals do it for me. They nourish my love of sound and vision – perhaps that's why I ended up mainly working in video. I was a board member of Splore, an outdoor music and arts festival in New Zealand. Having all your senses tickled while in nature – it's uplifting that feeling of limitlessness. In the 1990s I went to a performance by the Catalan performance group La Fura del Baus. If memory serves me right, the Rats in the Attic performance was presented at the Hordern Pavilion. What was fantastic was the experience of being pushed around, manipulated by them. It began upon arrival, the audience crammed into a holding pen for a long time. It was like we were human sheep, so when the doors to the main hall opened … we (and they) were unleashed. Minimal lighting picked out industrial sculptures, people immersed in glass tanks, a raucous punk finale. Upside-down figures climbed down the rafters; others ran through the crowd with chainsaws. Both frightening and exhilarating, it was an unforgettable performance.
Which artist/s would you like to meet?
There are so many people I admire. I'd love to have been in Ken Adam's art department on his James Bond movies. My early stop-motion films were inspired by great animators such as Ray Harryhausen, Jan Svankmajer and the Brothers Quay. But as artists are concerned, Doug Aitken is amazing in his breadth of vision. I'd have loved to be on the Station to Station tour. His kinetic artwork, travelling by rail across the US from the Atlantic to the Pacific, is a dazzling concept. Incredible collaborators were on board, creating in studios on the move. The minute movies reveal dizzying slices of American culture – genius.
Which one Art Gallery of New South Wales collection work could you live with? And why?
A hard ask given your amazing collection, but I settled on the media guru Nam June Paik and his TV Buddha [1976]. The sci-fi aesthetic of the groovy round white TV screen is reminiscent of a space helmet. So, it's like the TV and the Buddha are two characters communing. What are they listening to, talking about, beaming into? Paik was also intrigued by the mystery, and the humour, so he made many different versions. There's something wonderful about how this work meditates on itself, and transposes time. There's an energy field that the viewer is invited into. I could live with this work because with each new day it would evolve with me, demanding a consideration of new viewpoints and stories.
What is art for?
To rephrase the question, what is good art for? Art is a place to dream and to provoke. When times are tough, people may need a safe and gentle place – to bathe in beauty, or maybe dive into wonderful colours and textures and have fun. As colonised folk can appreciate, art provides a public place that reflects different interests, philosophies and values.
The Art Gallery's new building is open from 3 December 2022.
A version of this article first appeared in Look – the Gallery's members magazine