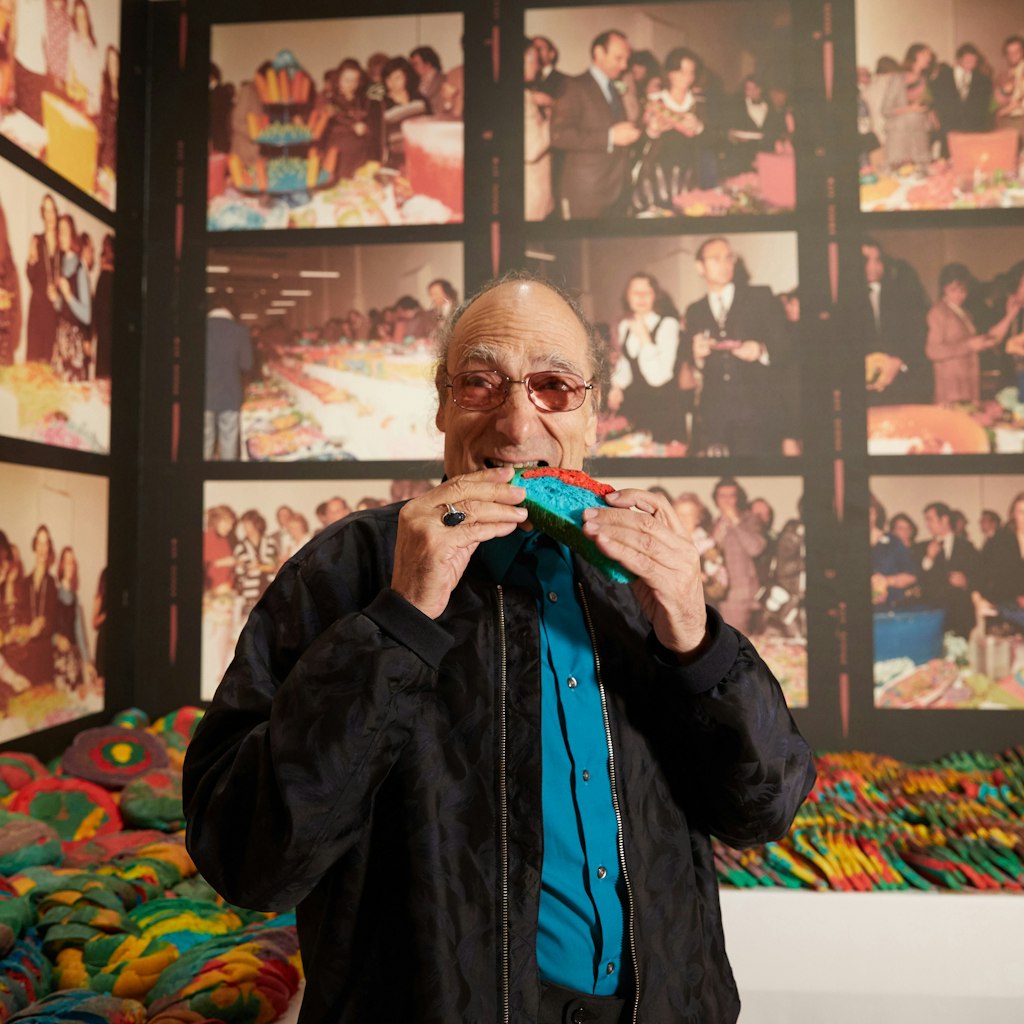 In 1973, Spanish artist Antoni Miralda created Coloured bread as part of Kaldor Public Art Project 4, causing an edible intervention and social interaction in the Art Gallery of New South Wales.
Forty-six years on, Miralda revisited the artwork for the exhibition Making Art Public: 50 Years of Kaldor Public Art Projects at the Gallery until 16 February 2020, working with Sydney master baker Keiran McKay.
Why bread?
'Bread is basic,' Miralda explains. 'I like to work with basic things, so people can find a new experience. I try to engage their minds – not just their stomachs – to think about why these colours? What do the colours mean? Why is it easier for me to eat the yellow than the blue? Why? There must be something.'
Born in Catalonia in 1942, Miralda felt the absence of traditional social rituals under the austerity of Franco's Spain; he missed the calendar of cultural festivities where food was made and shared to mark saints or seasons. 'From the very beginning I was interested and quite obsessed with those rituals, in a situation where there was absolutely no room for that because it was a very difficult time.'
The artist's interactive and ephemeral event-based works developed within the context of the 'happenings' of the 1960s – a new wave of art events and installations involving spectator participation.
Miralda describes his work as expanding from sculpture in the 1960s 'so I could introduce people as participants, sharing, connecting, linking – it was building bridges with the work itself … At the beginning it was like "Let's take the everyday food and let's just change it in a new situation." But not because I wanted to shock people – it's not about reaction or confrontation. In my case, you sit at a table and chat, and let's see – this is a piece of blue bread with pink, and you connect the ideas of what this means for you. Why does the bride have bridal white? Why is it "royal" blue, or "blue blood"? Why do we have these associations? Colours are part of a code. They are part of how we think. There are so many attached sensations and expectations to the colours. That's what I was working on when I came here in '73.'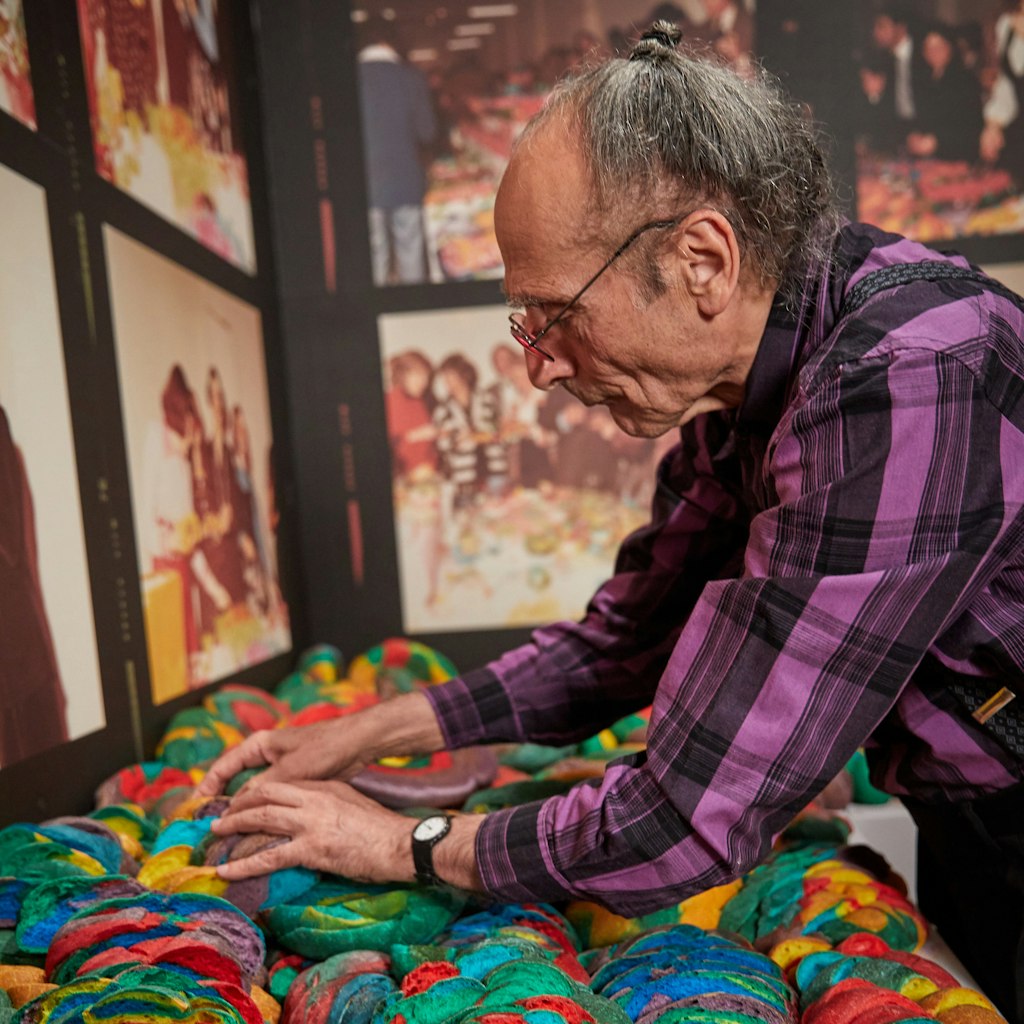 Art collector, textile designer and philanthropist John Kaldor met Miralda while visiting mutual friends Christo and Jeanne-Claude in New York in 1972. Kaldor invited Miralda to create a new work in Sydney to celebrate the opening of the new John Kaldor Fabricmaker showrooms in Surry Hills. The following year, 300 guests experienced a rainbow buffet of aspics, salads and canapes arranged on a vast tiered table by pattern, texture and colour.
'His art creates unforgettable moments,' says Kaldor. 'They are feasts for the senses that bring us together in celebration.'
Daniel Thomas, who was senior curator at the Art Gallery of NSW at the time, was so struck by Coloured feast that he suggested Miralda present a new work at the Gallery, and in under a week an 8.5m-long table covered with multi-coloured plaited breads, horseshoe rolls, wreaths and sliced loaves ran through the entrance court.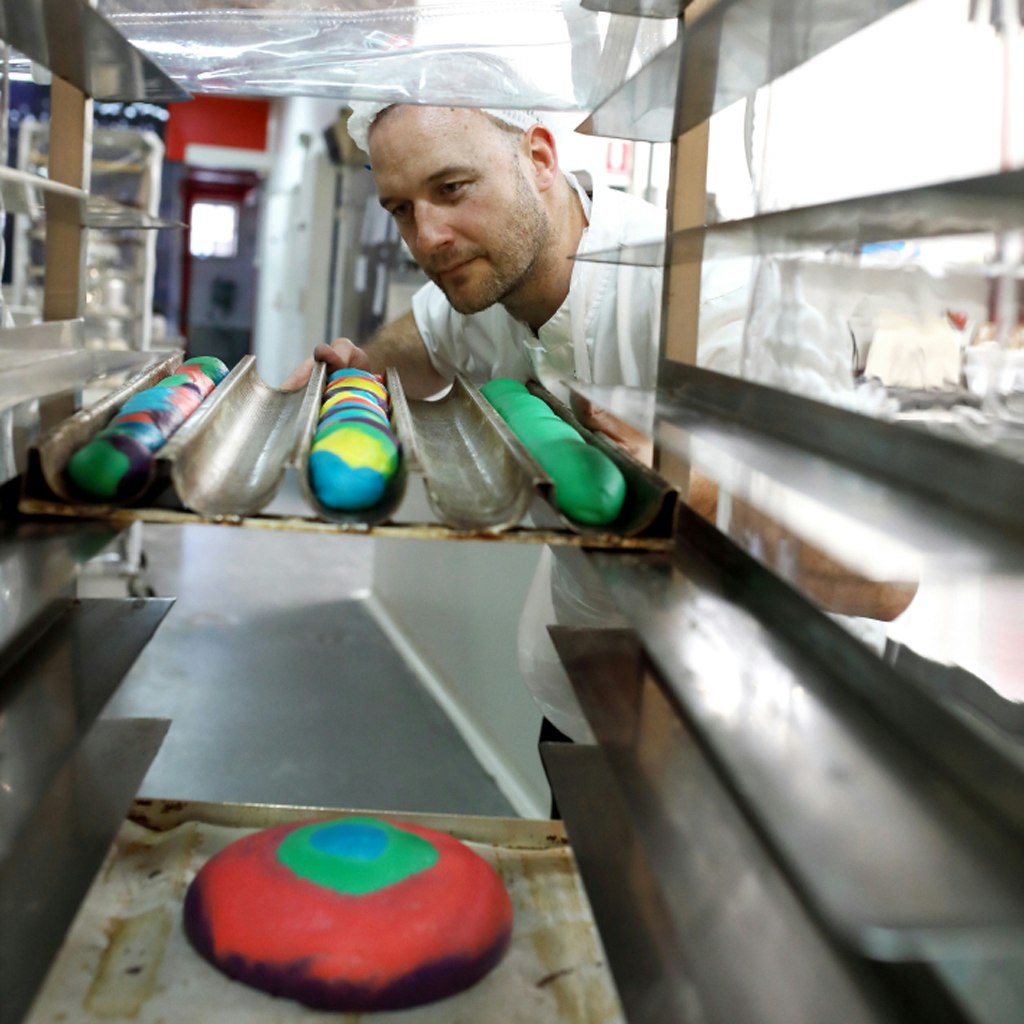 For the 2019-20 reimagining of the work, Sydney pastry chef Keiran McKay of Baked by Keiran worked closely with Miralda to create the bread and get the right colours and textures.
Although not available for visitors to eat in this iteration, 'It's actually quite tasty,' says McKay. 'We mix it, bench it, prove it, bulk prove it, knock it back, turn it. Then it goes into the fridge for at least 24 hours before it's baked – that develops the flavour. It's not just plain, boring, soft bread.'
Instead McKay has created a version of ciabatta, baked at lower temperatures to avoid dulling the colours through browning, and with milk added to some batches to create a 'tighter' dough. The powdered, edible pigment is first mixed with water and then added later to the dough during the mixing process. 'I've got colours everywhere!' laughs McKay, looking at his hands and around the large, industrial kitchen, but surprisingly his 12-year-old organic starter yeast 'likes it'.
To keep the installation fresh, many batches of bread are being made throughout the exhibition to replenish the display.
Keiran McKay's bread-making process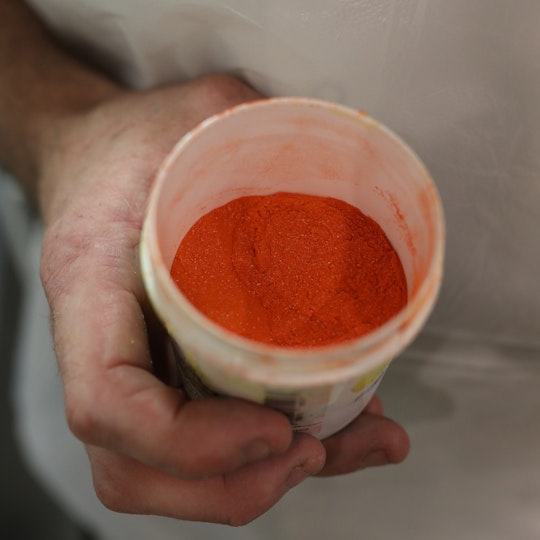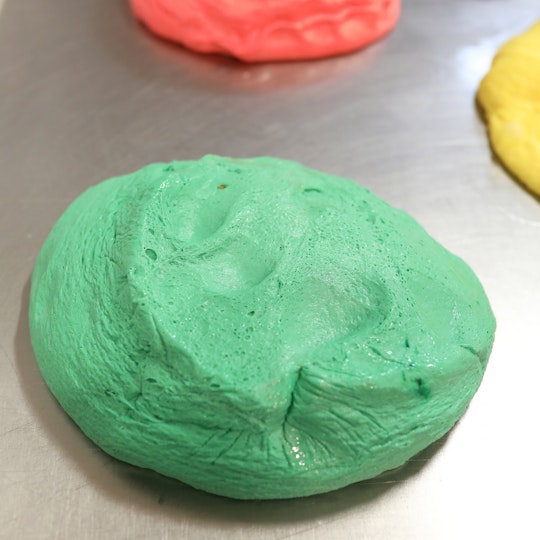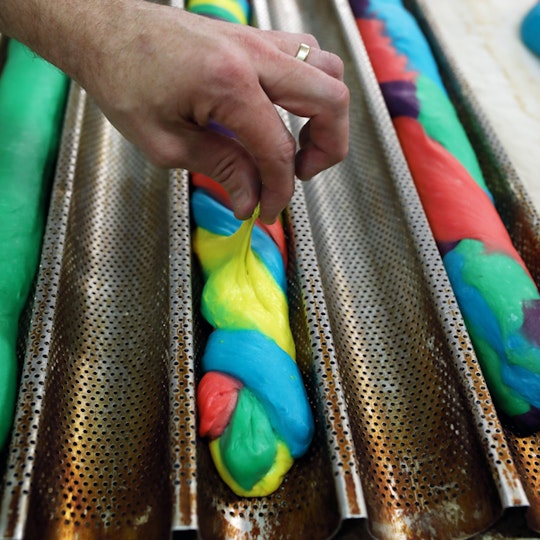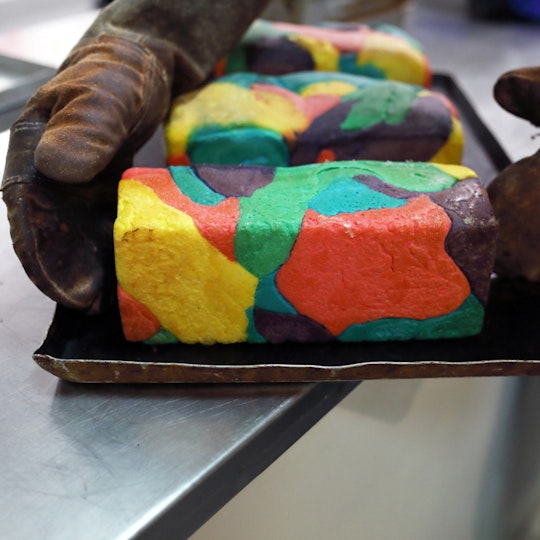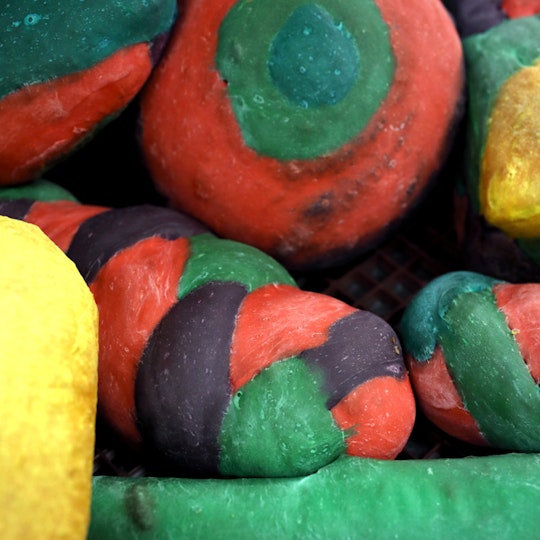 British artist Michael Landy led the reinterpretation of each Kaldor Public Art Project for Making Art Public, drawing on Kaldor's archive of each work. The display includes photos of the original Coloured bread event at the Gallery.
With his own living museum of food culture in his house in Barcelona, Miralda appreciates the nuances of working with an archive. 'I'm very happy with that,' he says. 'Michael had to condense and conceptualise the archive contents. It's extremely interesting because an archive is not only about the photocopies and dust, it is also about some other meanings that are lost between those photocopies – it is about the thoughts and memories.'
But what about visitors who say, 'It's just bread'?
'I would agree with that,' smiles Miralda. 'Artists bring some possibilities to people to taste, to think, to research, to feel good, and of course to be critical, so that's part of it. But these foods that come from the grain – these very basic foods – are part of the nutritional balance for the whole globe, so we don't need to add sophistication. Those basic needs are also good.' Sharing bread, thoughts and memories, and all these may entail, is enough.
A version of this article first appeared in Look – the Gallery's members magazine