An interview with Uncle Badger Bates, the artist behind a major display at the Art Gallery for rīvus, the 23rd Biennale of Sydney.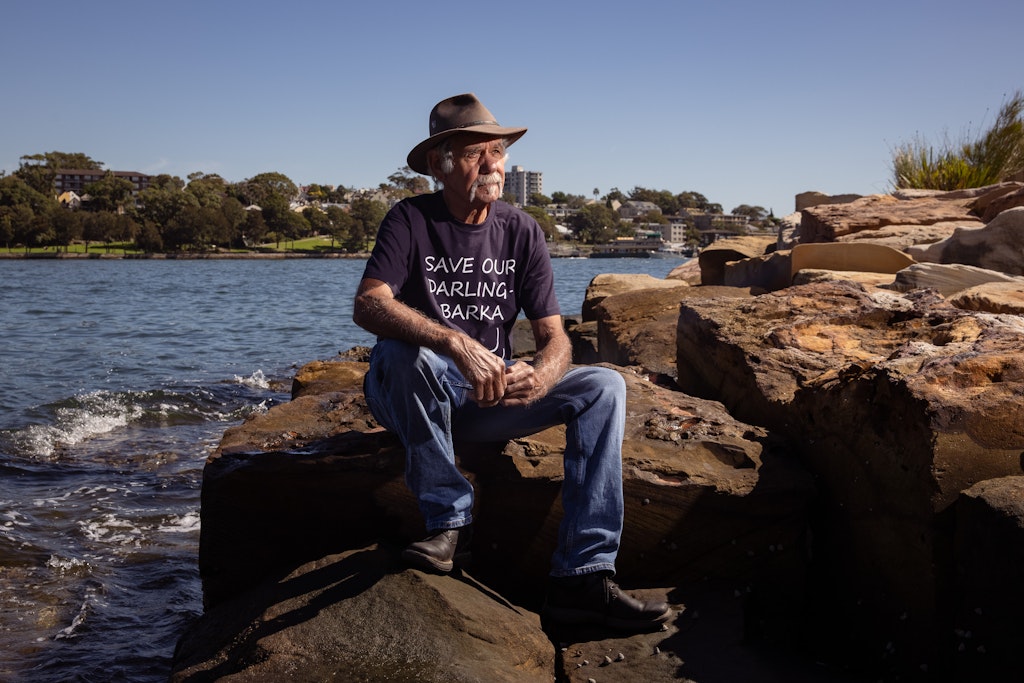 Can you tell us about yourself and your art practice?
I'm from Wilcannia. My name is William Brian Bates, but I take the name of Badger. I never went to school much, but I was reared up in a tin hut on the riverbank. I was taught by my grandmother, who was a traditional old woman but knew a lot of language, and she taught me how to carve emu eggs and make wooden artefacts. As I grew up, I was influenced by the rock art around our Barkandji Country where I come from. I try to use traditional designs and I look at things that I see on the land. I use a lot of designs made by the wind when it moves the sand. Patterns in the clouds and patterns by the water. I fought for the river for over 20 years, and sometimes if I go out and demonstrate in the street then I'm just a troublemaking blackfella, so I put it in my artwork.
You're presenting several works for the 23rd Biennale of Sydney, including a new sculpture, Ngatji (rainbow serpent), at the Cutaway in Barangaroo. What was the inspiration behind this work?
Ngatji, the rainbow serpent, it's one of our creators, what created the land and created the Darling-Barka [river]. I went [to the Cutaway] with José [Roca, artistic director] and some of the people from the Biennale, and as soon as I walked in, because it's near water, and because the Sydney sandstone has got a lot of pretty colours through it and there's veins in it, I could see a ngatji swimming. I will work with a blacksmith by the name of Matt Mewburn. He got a blacksmith's shop at old Eveleigh workshop. It will be 6m long with a steel rainbow in it.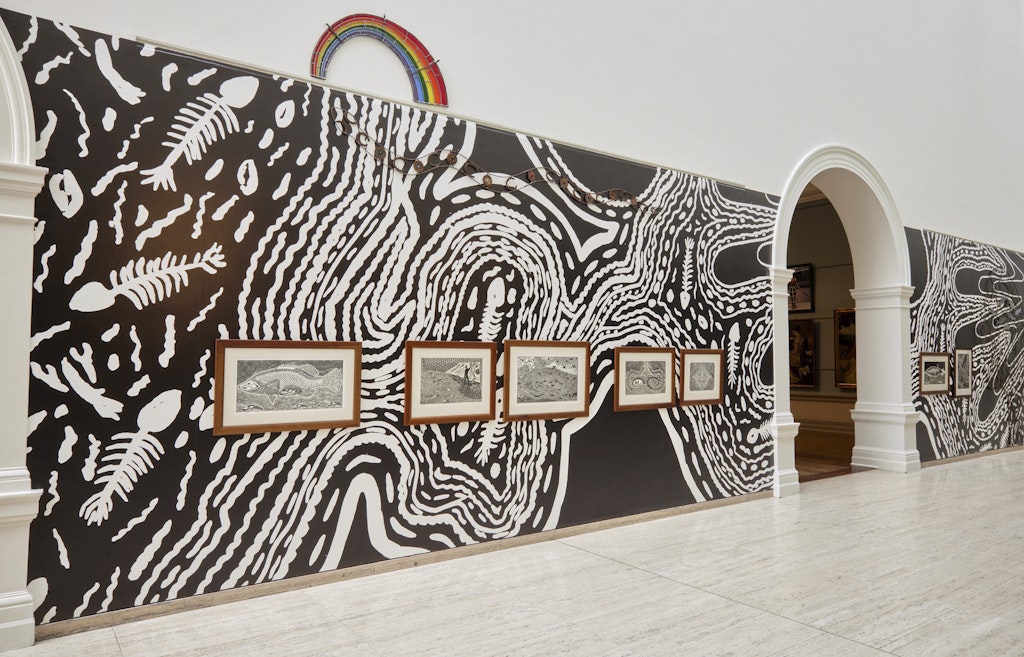 What can visitors expect to see at the Art Gallery of New South Wales?
It'll focus on our Barkandji Country and on the Darling-Barka. There'll be a print there, Barka the forgotten river and the desecration of the Menindee Lakes. Back in 2019–20 [there was] the big massive fish killing at Menindee when they took the water away in the lakes. They'll blow up this picture of the Menindee Lakes with the dead fish, and it'll go from one part of the wall right across, and in that they'll hang some of my lino prints about the river.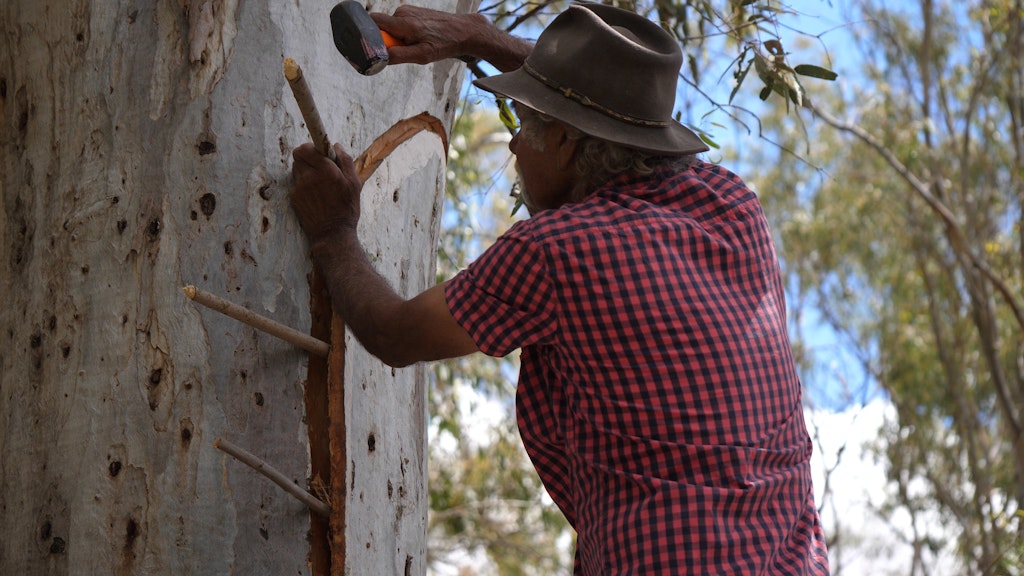 You've been collaborating with the Art Gallery's Djamu Program for Indigenous Art Education on a canoe-making project with students on Barkandji Country. Can you tell us more about the program?
As Barkandji people, we are canoe makers, but we never done it for a long time. My grandmother cut one over 100 years ago and rode it around. And then last year we cut this other one, so we're going to start doing it again. Years ago, a lot of us wouldn't keep doing it because we had all this stuff where you couldn't do this and you couldn't do that. But now that native title came in just a little bit, Barkandji and blackfellas' culture is being recognised more.
What would you like audiences to take away from seeing your work in the Biennale?
Aboriginal people and Europeans can work together if we focus and try and help one another and try and protect the country. Listen to the animals, watch animals, because they'll come to you if you be kind to animals. When I'm out there carving and I wait for the wind to blow because I know the old people's spirits are around, the birds will come along and sit down and watch me. I will talk to the birds in my language. In English, we can't understand each other. So, understand nature. Look after it. And only take what you need and don't be greedy. My artwork will tell you that. What you see on that wall is what I see in the bush.
The Biennale is on display until 13 June 2022. A version of this article first appeared in Look – the Gallery's members magazine