Essential questions: Daniel Boyd
Multidisciplinary artist Daniel Boyd spoke to Look magazine ahead of his solo exhibition at the Art Gallery of New South Wales.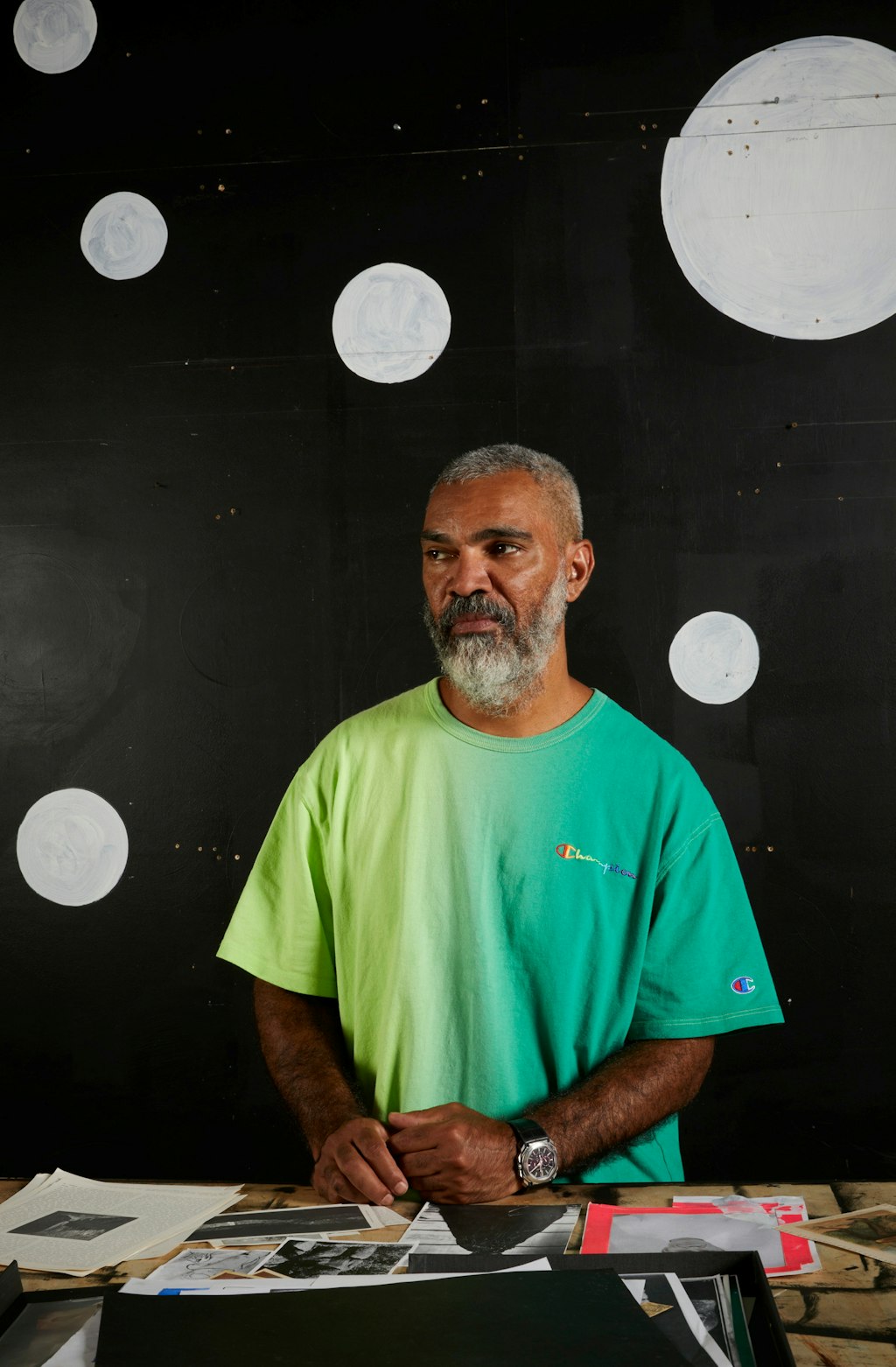 Why do you make art?
When I first started making art, painting and drawing were a passion of mine. Being a young man of First Nations descent, my people have been part of the Stolen Generation, so their children were taken – they were stolen from them – and they were forced to live on church missions in collaboration with the state. Any form of cultural inheritance was denied – that transference of knowledge was in huge dislocation. The processes that the church and the state used meant that my parents, my grandparents and great grandparents lived in fear of sharing that knowledge. They thought that if they shared it their children would be taken away from them. It was quite a sinister project; and included the education system. When I got to university, I became more interested in symbolism and iconography and how they inform society and culture. I became more interested in understanding how the education system was structured and what I was denied. Education became very important to me in trying to find some type of equilibrium – education that didn't have all of those cultural biases, one that hopefully came to a point where there was some kind of equilibrium or truth in the representation of this country. I felt like I had to share my experience to help the wider public understand our experience as First Nations people.
Which cultural experience changed the way you see the world?
University was important for me. By the time I got to university, I had all these questions about how I fit into society, and dealing with prejudices constantly, you try to understand why society and a collection of ideas can help to marginalise people. It gave me the space to learn the different forms of visual language that helped the British Empire to expand and justify their processes of colonisation and imperialism. I had the opportunity to engage with artists who were of a similar background to me, and who shared the same experience. There were people who had forged a path for people like me to not only share our experience but try to come to terms with the relationships we have every day in this country. It was going to university that gave me the confidence and independence to be able to work through the questions I had. It gave me a better understanding of sovereignty and land and capitalism, imperialism and the Enlightenment; and it opened up my understanding of how and why these visual languages inform society.
Which artist/s would you like to meet or watch work?
Gordon Bennett would have been someone I would have loved to have met. Also, Dan Graham is someone I have huge respect for. I always imagined that I would have been able to meet him. It was sad recently to see that he had passed. With Gordon Bennett it was the strength in his voice, when he came to understand that he could use his visual language to reach people. It was a beautiful thing to see, but it was very tough to see that process of having to educate Western society through his practice. It was a similar experience for me. With Dan Graham, it was more about his relationship to the audience.
Which one Art Gallery of New South Wales collection work could you live with?
There's a Ginger Riley painting of a rainbow serpent, Limmen Bight River Country 1992. The continuous transference of knowledge and how that is thousands and thousands and thousands of years old is I think what makes it beautiful for me, and the relationship between light and the rainbow serpent.
What is art for?
Art is a way to share experiences and ideas so hopefully we don't make the same mistakes we've made in the past.
Daniel Boyd: Treasure Island is on display at the Art Gallery from 4 June 2022.
A version of this article first appeared in Look – the Gallery's members magazine