Artist interview: Kushana Bush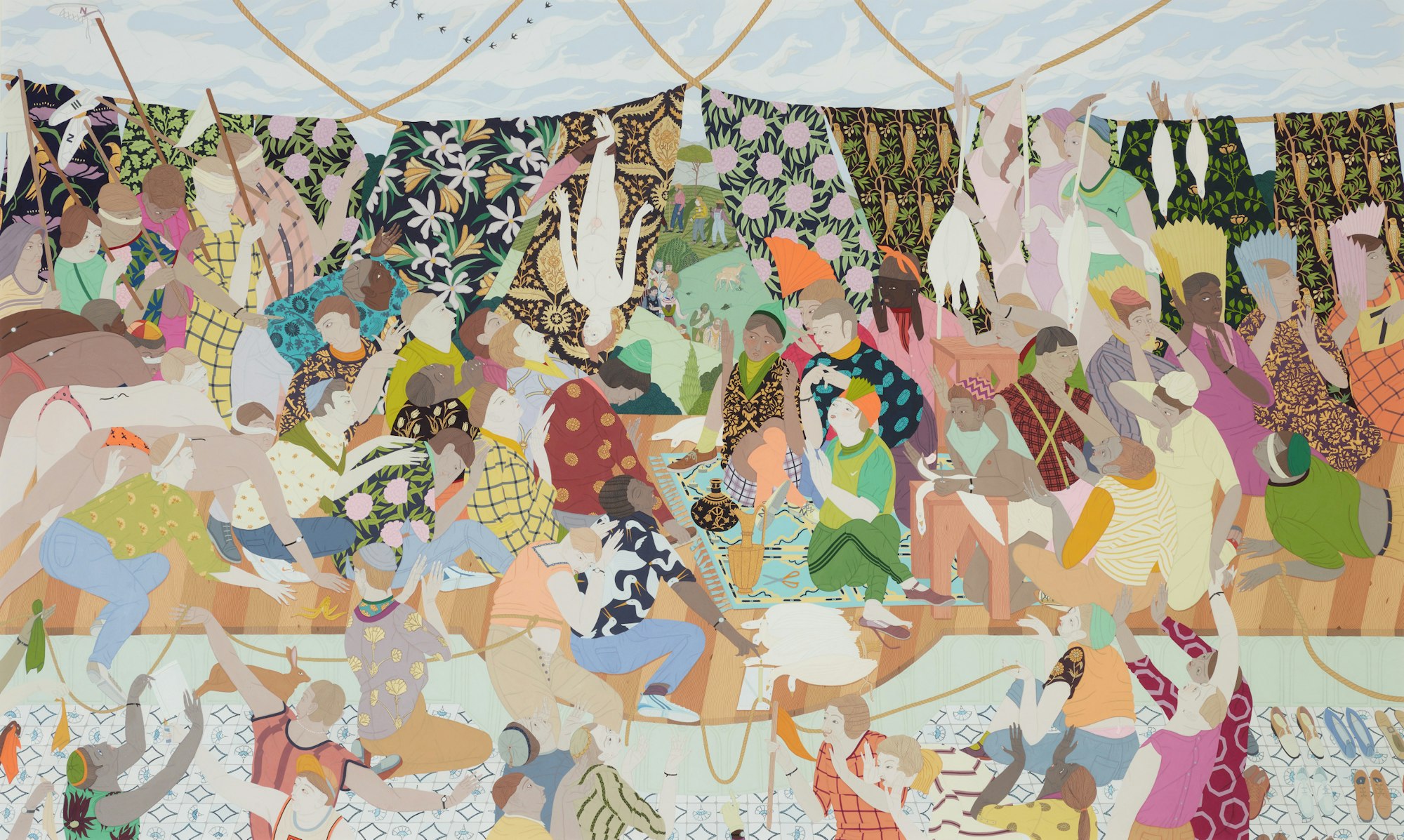 Based in Dunedin, New Zealand, where she grew up amongst her parents' collections of Indian miniatures and Japanese woodblock prints, Kushana Bush paints amongst a library's worth of books and archival material, and the sound of the news on her radio.
In painstaking strokes of gouache, she traverses a vast array of sources – from Mughal miniatures and medieval books of hours to, as we hear in this interview, water-skiing and sportswear – to seamlessly infuse historical references with symbols of our contemporary world.
Last year, the Gallery acquired one of her most ambitious works to date, Here we are 2016.
An earlier work – Pressed open hook 2009 – is featured in Out of the Ordinary: Works from the ARTAND Emerging Artist Collection. The exhibition presents works by Australian and New Zealand contemporary artists who engage with everyday materials and imagery in surprising and transformative ways. Each work was created in the early stages of the artist's career and demonstrates a keen spirit of experimentation, while also illuminating the direction and development of the artists' current practice.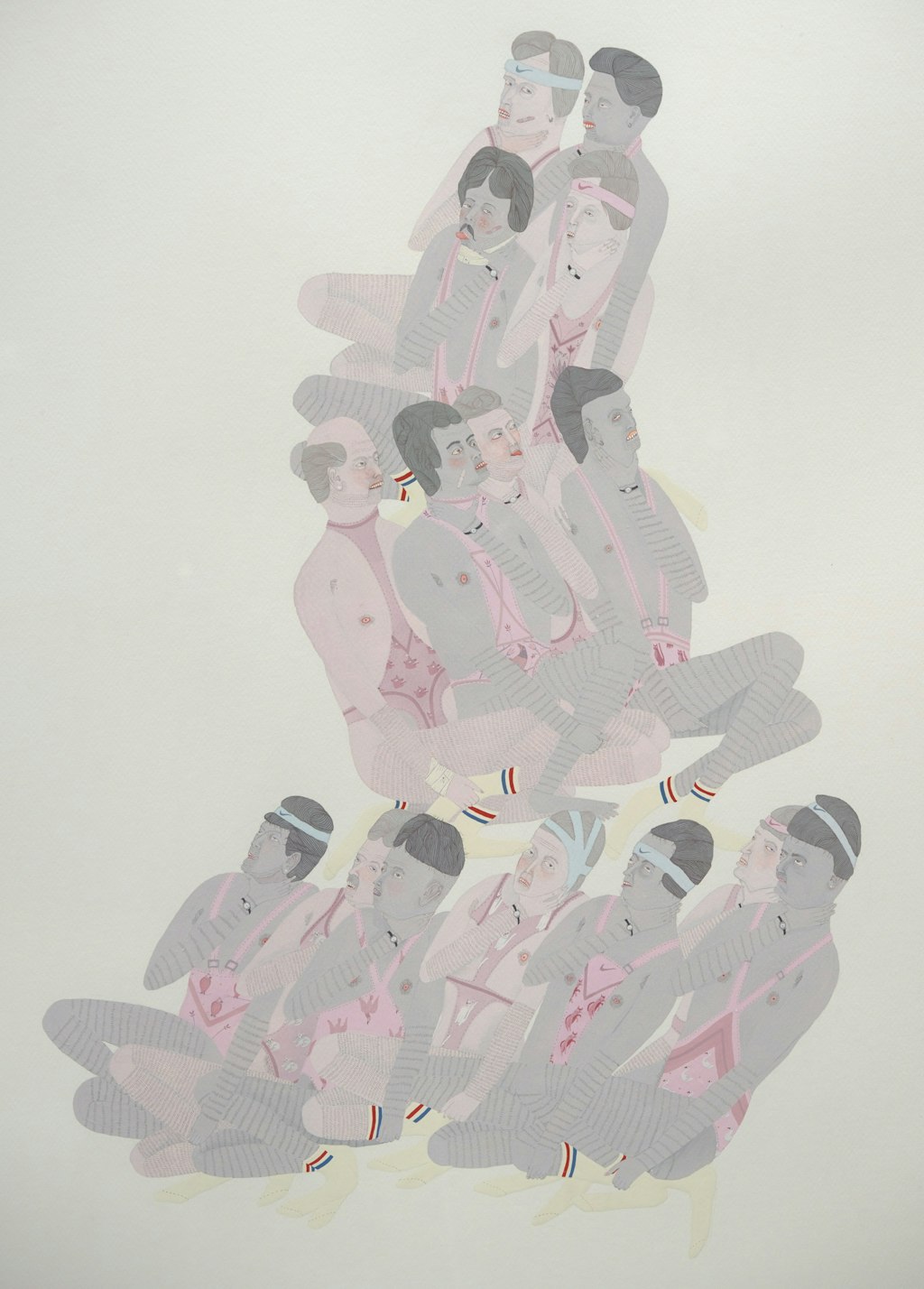 A human pyramid of eccentric wrestlers, a zigzagging group of sporty worshippers; who exactly are we looking at here?
I'm often asked who it is I am painting; my answer is always a firm – in no way are my paintings self-portraits. Bear in mind, artists are the biggest liars I know, and are especially good at lying to themselves.
In 2010 I had just survived my first years of living off painting sales as my only income. Looking back, I can see why those hyperventilating people look so concerned and risk toppling over at any second. It looks like I have not even been kind enough to supply them with inhalers!
This painting was made when my studio was situated close to a gym and you can start a painting in mirth but it will always reveal more about you. Their absurd rituals were no different from my studio rituals, we were both filled with the same desperate yearn and search and reach. (Was the gym becoming a contemporary church or heaven forbid even their equivalent of an art gallery?)
Theatre and paintings often use 'the fool' to stand in for that lost or searching someone – that the artist often identifies with – and I think these laughable gym bunnies have something of 'the fool' in them. Most of us in the modern world can relate to their endless futile search for meaning. When we recognise ourselves in these foolish wrestlers, our sniggering stops.
Your imagery seamlessly blends a range of historical and contemporary references. Do you consider your imagery to be set in, or from, a certain period of time?
The best of my works duck and dive out of any specific time and place. The use of gouache in a miniature format took form from some of the medieval illuminations I discovered at this time. Those were images that could be shut away in books, but I was trying to attempt a similar thing for the modern audience, large scale and on a wall.
I've had a little one-page photocopy in the studio for years of the First seven modes of prayer of St Dominic (illustrations for Los nueve modos de orar, a 14th-century work in the Monasterio de Santo Domingo el Real, Madrid). This very simple illustration depicts a man doing his daily exercises of 'devotional gymnastics' – think planking and downward dog. I loved how it was a manual in how to achieve ecstasy. His little positions inspired me to think that the body has played an important role in prayer and attainment of spiritual wellbeing.
It's always in the collision where the fun is had. When painting Pressed open hook 2009, I was also thinking formally about precarious water-skiing pyramids and, as strange as it sounds, flower arranging. There is a kind of flag-like quality to the works, perhaps a kind of SOS? All the works from my Modern Semaphore series have that near banner size of a flag and although the miniature qualities remain, they were my first, and probably only, attempts to work as an abstract painting from a distant view. (I look back on all my paintings with a kind of nervous awkwardness, like everything I tried was an adventurous teenage haircut.)
The subjects of your paintings always have the most intriguing attire – and Pressed open hook is no exception. Do you see clothing as a key social signifier, a way to tell us something about your 'little people'?
Choosing to make art for a living felt precarious and worrying. What I did have in spades, though, was the power of play. These people were my toy soldiers that I could dress up, or down, and because I was so vulnerable (like a tyrant) I genuinely remember trying to humiliate them with these costumes. Making the works feels a bit like stage direction and, occasionally by accident, the looks on their faces seem to say: 'can you please get me out of here?'
Sometimes when I'm out in the real world (I'd guess 90% of my waking life is in the studio) I simply wonder why am I drawn to that? It can start with a tube sock I wish I never saw on a long walk and it ends up lasting in the work for a very long time. In our day-to-day we pay no attention to a Nike tick, a wristwatch and a tube sock, but as soon as it is placed in a gallery we demand its concrete symbolic importance. Boy, that's a powerful thing for an artist, the most wonderfully alluring hot potato.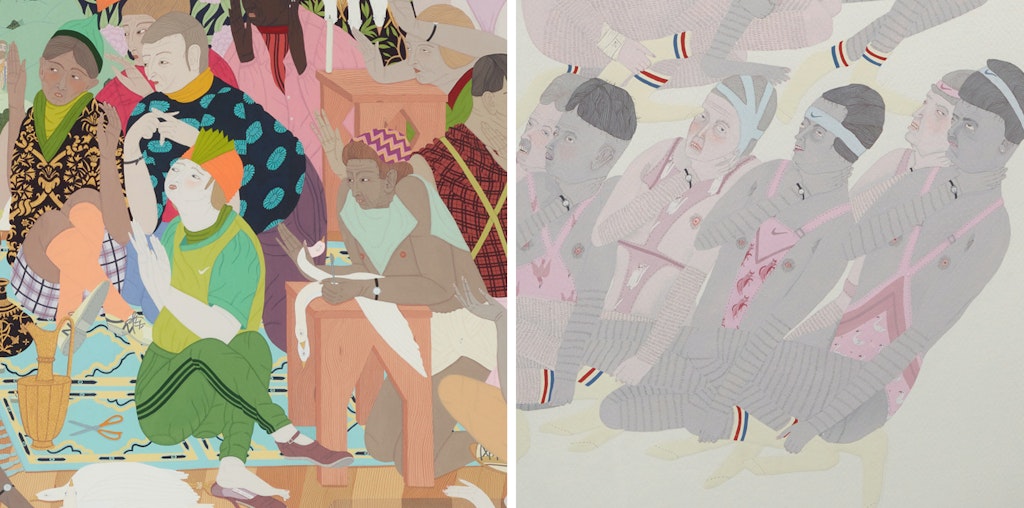 The Gallery has also acquired a recent painting of yours, Here we are, which is compositionally more ambitious than this earlier piece, with a much tighter brocade of imagery, broader range of colour, and executed on a much larger scale. What processes and ideas were you exploring at this moment of your career?
I think, in areas, there is this same occasional compositional clumping of figures which I learnt from my dalliance with flower arranging. This compositionally helps to carry the eye to parts of the painting and rest them there until the next point takes over. Instead of stage directions, in my most recent works, I have now literally given them a stage (and when I say 'them' I mean my little people). Their clothing is often a little more conservative but not always. I think they look out to the world more too; they reflect my spy hole on world events and daily events in a way that my works in 2009 weren't able to.
Also today, eight years on, I would never think to humiliate my little people, I now know who is in charge.
I notice too – the wristwatches. They were there in 2009!
I know! One day the clock will stop though. Gulp.