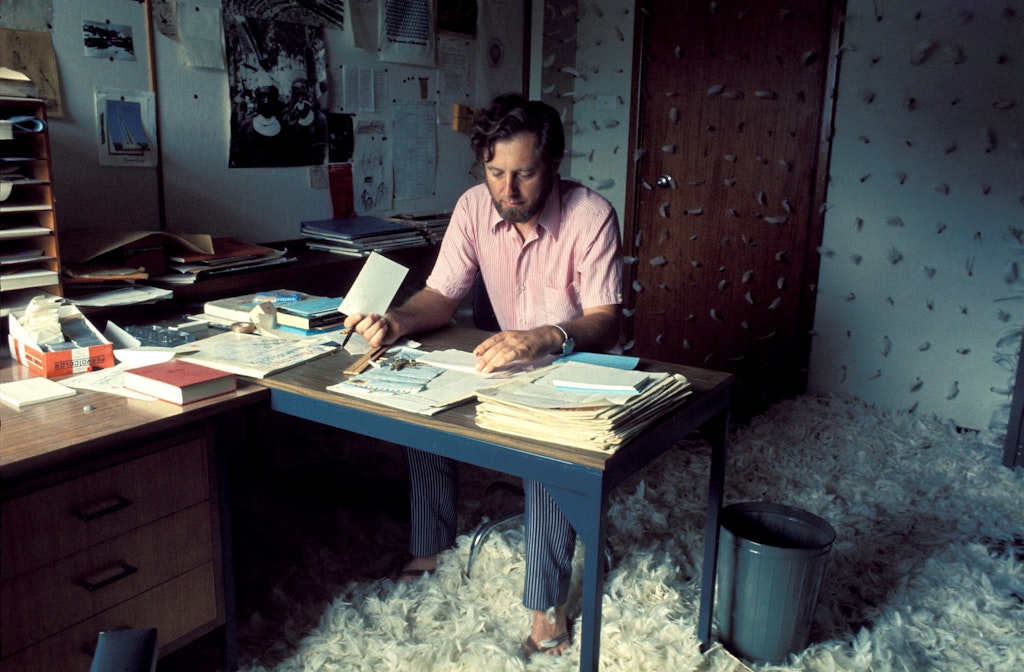 Artist interviews
Over the years, a number of artists have been interviewed in depth for the National Art Archive at the Art Gallery of New South Wales, which you can listen to if you visit the library and archive.
We aim to make many of these interviews available online – starting with an archival interview with artist Ruth Faerber in celebration of her 100th birthday on 9 October 2022.
Ruth Faerber

One of Australia's most innovative artists, Ruth Faerber (born 1922) played a pivotal role in pioneering lithography practice in Australia, before developing a unique form of paper relief sculpture. She was also represented in numerous prize competitions, including the Archibald, Wynne and Sulman Prizes, with works in various mediums, including prints, landscape and portrait paintings, and mural designs.

Ruth Faerber in the Gallery's collection

Interview date 13 August, 3 September, 29 October 2013 and 25 March 2014

Interviewer Steven Miller, head archivist, Art Gallery of NSW
Balnaves Foundation Australian Sculpture Archive Project
Take a fascinating journey through Australian sculpture over the past several decades via the words of many of its key figures.
About the project

As part of the larger archive at the Art Gallery of New South Wales, the Balnaves Foundation Australian Sculpture Archive Project focuses on significant Australian sculptors and sculptural practice.

Initiated and led by Deborah Edwards, then the Gallery's senior curator of Australian art, the project was developed with a grant from the Balnaves Foundation in 2010, which supported the recording and transcription of interviews with artists and other figures in Australian art.

Edited transcripts of these in-depth interviews provide a unique insight into the thoughts, opinions and experiences of these people.

These are personal stories, ranging from the interviewees' backgrounds and childhoods, their training, influences and motivations to their professional practice and artistic ambitions. We discover the challenges they've encountered and the lessons they've learnt, as well as how they wrestle with questions such as what exactly defines sculpture and art. Along the way, they build a picture of change, in both the art world and the wider world.

Many of the stories overlap as we hear different perspectives on the people, institutions and events that have shaped Australian art, particularly in the tumultuous years of the 1960s and 70s.

Asher Bilu

Asher Bilu (born 1936) produces paintings, sculptures, installations and works that blur the boundaries between them. These abstract works reflect his interest in light, music and science (particularly cosmology). His 1967 work Sculptron I has been called the first electronic sculpture exhibited in Australia.
Asher Bilu in the Gallery's collection

Interview date 28 November 2014
Interviewer Deborah Edwards, senior curator of Australian art, Art Gallery of NSW

Donald Brook

Donald Brook (1927–2018) was an art theorist and writer. He was also a practising sculptor and an art critic before moving into academia. Brook played a significant role in the development of conceptual art in Australia and helped found the Tin Sheds workshop at the University of Sydney and the Experimental Art Foundation in Adelaide.

Interview date 23 February 2011
Interviewer Deborah Edwards, senior curator of Australian art, Art Gallery of NSW

Tony Coleing

Tony Coleing (born 1942) first attracted national attention as a sculptor with his works in the 1968 exhibition The Field. In 1980, he represented Australia at the Venice Biennale with a series of installations characterised by humour and social comment. He is also a prolific printmaker as well as producing paintings and drawings.
Tony Coleing in the Gallery's collection

Interview date 20 July 2011 and 22 April 2015
Interviewer Deborah Edwards, senior curator of Australian art, Art Gallery of NSW

Mikala Dwyer

Mikala Dwyer (born 1959) creates objects and installations that incorporate raw materials and found objects in inventive and unexpected ways that transform their architectural settings. Her playful and provocative works explore ideas about shelter, childhood play, modernist design and the relationship between people and objects.
Mikala Dwyer in the Gallery's collection

Interview date 1 August 2017
Interviewer Wayne Tunnicliffe, head of Australian art, Art Gallery of NSW

Erwin Fabian

Erwin Fabian (born 1915) is known for his abstract pieces created from scrap metal. He turned to sculpture in the 1960s after working for many years as a graphic designer, and his body of work also includes paintings, drawings and prints.
Erwin Fabian in the Gallery's collection

Interview date 23 July 2015
Interviewer Leanne Santoro, assistant curator of Australian art, Art Gallery of NSW

Herbert Flugelman

Herbert 'Bert' Flugelman (1923–2013) is best known for his large-scale works of simplified geometric forms in stainless steel. Lesser known are the series of site-specific installations, performances and happenings he produced during the 1960s and 70s. He was involved in running the Tin Sheds workshop at the University of Sydney and was an influential teacher of sculpture for three decades.
Herbert Flugelman in the Gallery's collection
Herbert Flugelman archive

Interview date 4 March and 27 April 2010
Interviewer Deborah Edwards, senior curator of Australian art, Art Gallery of NSW

Marr Grounds

Marr Grounds (1930-2021) was a sculptor and pioneer of environmental and 'habitable' art. He also lectured in architecture and was involved in establishing the Tin Sheds workshop at the University of Sydney.
Marr Grounds in the Gallery's collection

Interview date 30 March 2015
Interviewer Deborah Edwards, senior curator of Australian art, Art Gallery of NSW

Bob Jenyns

As an artist, Robert 'Bob' Jenyns (1944–2015) was involved in many significant exhibitions including the first Biennale of Sydney. From 1983 to 2005, he was head of sculpture at Tasmanian School of Art. A winner of the Helen Lempriere National Sculpture Award, he also produced prints, drawings, and paintings, often reflecting his interest in narrative and in folk and outsider art.
Bob Jenyns in the Gallery's collection

Interview date 23 March 2010 and 14 July 2011
Interviewer Deborah Edwards, senior curator of Australian art, Art Gallery of NSW

Greg Johns

Greg Johns (born 1953) is a public sculptor who has undertaken numerous commissions for works in public, commercial and private spaces. His large-scale forms are often made of steel, although his practice has developed over decades under varying influences, from Buddhism to the Australian landscape.

Interview date 26 November 2014
Interviewer Deborah Edwards, senior curator of Australian art, Art Gallery of NSW

Peter Kennedy

Peter Kennedy (born 1945) is an Australian conceptual artist. A founding member of the co-operative artist space Inhibodress, which played a key role in Australian experimental art of the early 1970s, he has been a pioneering artist in installation, light, performance and sound work in this country.
Peter Kennedy in the Gallery's collection

Interview date 18 March and 16 October 2014
Interviewer Deborah Edwards, senior curator of Australian art, Art Gallery of NSW

Mike Kitching

Although he won the 1964 Blake Prize for a painting, Mike Kitching (born 1940) is best known for his sculptures in stainless steel, aluminium and plexiglass, which often incorporate light. A self-trained artist, he has also taught for many years, including at the City Art Institute in Sydney.

Interview date 11 September and 23 October 2014
Interviewer Deborah Edwards, senior curator of Australian art, Art Gallery of NSW

Lou Lambert

Lou Lambert (born 1941) is an Australian sculptor whose largest commission is in Adachi City, Japan. He was an assistant to Phillip King in London in the 1970s, and taught at Perth Technical College and Curtin University.

Interview date 18 November 2014
Interviewer Deborah Edwards, senior curator of Australian art, Art Gallery of NSW

Tom McCullough

As director of the Mildura Art Centre, Tom McCullough curated the Mildura Prize for Sculpture in 1967 and the Mildura Sculpture Triennials in 1973, 1975 and 1978 as well as Sculpture 75 in Canberra. He was also curator of the first Australian Sculpture Triennial in Melbourne, in 1981, and artistic director of the second Biennale of Sydney, in 1976.

Interview date 24 March 2010
Interviewer Deborah Edwards, senior curator of Australian art, Art Gallery of NSW

Kevin Mortensen

Kevin Mortensen (1936–2023) is best known for his avant-garde sculptures and performances of the 1970s and 80s. He represented Australia at the 1980 Venice Biennale. He also taught art in secondary schools in Victoria and lectured at his alma mater, the Royal Melbourne Institute of Technology.
Kevin Mortensen in the Gallery's collection

Interview date 16 February 2017
Interviewer Deborah Edwards, senior curator of Australian art, Art Gallery of NSW

Robert Owen

Robert Owen (born 1937) began his artistic career as a sculptor, and a 3D conceptualisation of space is integral to his practice, which includes paintings and drawings as well as installations and public art commissions. His work is characterised by diverse materials and approaches, linked by an interest in light, colour and geometry.
Robert Owen in the Gallery's collection

Interview date 31 July 2004
Interviewer George Alexander, coordinator of contemporary art programs, Art Gallery of NSW

Ron Robertson-Swann

Best known for his abstract metal sculptures, Ron Robertson-Swann (born 1941) studied and worked under Anthony Caro and Phillip King in London in the 1960s. He has taught art and was head of sculpture at the Canberra School of Art and National Art School. Painting is also essential to his practice, and his paintings were included in the 1968 exhibition The field.
Ron Robertson-Swann in the Gallery's collection
Ron Robertson-Swann archive

Interview date 19 August, 6 December 2011 and 22 May 2015
Interviewer Deborah Edwards, senior curator of Australian art, Art Gallery of NSW

Ken Scarlett

Ken Scarlett (born 1927) was involved in art education in Victoria, as a teacher and at the National Gallery of Victoria. As a practising sculptor, he served as president of the Victorian Sculptors' Society in 1964–65. He is also a curator and writer, and the author of the 1980 book Australian sculptors.

Interview date 25 March 2010
Interviewer Deborah Edwards, senior curator of Australian art, Art Gallery of NSW

Peter Lawrence Taylor

Peter Taylor (1927–2019) is known for his distinctive wooden sculptures and assemblages, combining art, craft and design in eclectic three-dimensional works. He also taught art in Tasmania in the 1960s and 70s, including at the Tasmanian School of Art.
Peter Lawrence Taylor in the Gallery's collection

Interview date 23 February 2010
Interviewer Deborah Edwards, senior curator of Australian art, Art Gallery of NSW