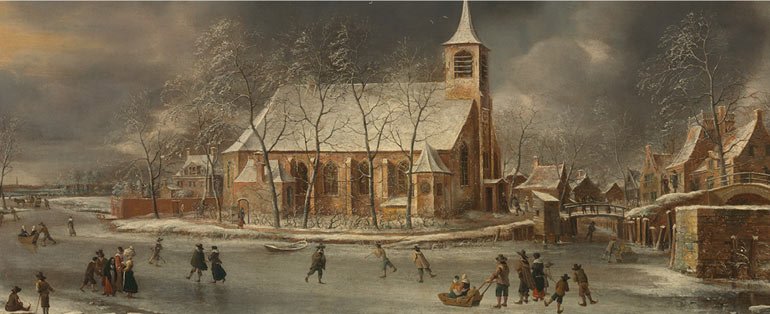 Image: Jan Abrahamsz Beerstraten View of the church of Sloten in winter c1660 (detail), Rijksmuseum, gift of SE Dribbel, Amsterdam
Christmas festivities – with a Dutch flavour – continue tonight. Shop for unique gifts, enjoy drinks and a nibble, and take in a performance by the Choir of St James' King Street. Grab a ticket to the final lecture in our Masters of simplicity series to discover the unrivalled genius of Rembrandt. Or, for a complete change of pace, see one of the greatest and grittiest films of the 1970s, Dog day afternoon, on the big screen.
This is the last of our Art After Hours for 2017. We'll be back on 10 January. In the meantime, the Gallery is open every day, except Christmas Day, until 5pm.
Special early start
Kids of all ages can kick off with our free artmaking activity from 4.30pm until 6.30pm:
Drop in and make: A Dutch Christmas
13 December 2017
6pm

Lecture / symposium

Mami Kataoka, Judy Annear, Anthony Bond and Penelope Seidler discuss the Biennale of Sydney

Duration 1 hour, 30 minutes. Centenary Auditorium. Free, bookings required.

Rembrandt: painter of the human spirit

Duration 1 hour. Domain Theatre. Charges apply.

7.15pm

Tour

Contemporary art guided tour

An introduction to contemporary art highlights in the Gallery

Duration 1 hour. Ticketing and information desk. Free.

Tour

An introduction to highlights in the exhibition

Duration 1 hour. Major exhibition gallery. Free with exhibition entry.

7.30pm

Art After Hours Music Performance

Join us for a performance by one of Australia's foremost choirs

Duration 1 hour. Entrance court. Free.

10pm

Gallery closes (Art After Hours)

Some parts of the Gallery have different hours
Exhibitions
On Wednesdays the Gallery stays open late for Art After Hours*
Displays until 10pm
Cafe until 9.30pm
Restaurant until 9pm
Gallery Shop until 8.45pm
Members lounge until 9pm
Library and archive until 6.30pm
Courtesy bus runs every 15 mins from 7pm until closing from the Gallery to various locations in the city close to public transport
*Except 19, 26 December and 2 January, when the Gallery will close at 5pm. In addition, the library will be closed until 6 February.