Regional engagement
The Art Gallery of NSW is dedicated to serving the widest possible audience as a centre of excellence for the collection, preservation, documentation, interpretation and display of Australian and international art, and a forum for scholarship, art education and the exchange of ideas.
Through our website, regional users can access the Gallery's collection online and request digital images of artworks for a range of uses.
We have a lending program making our collection accessible to regional galleries and audiences across the state, and a touring exhibition program which includes the annual tour of Archibald Prize finalists.
Using our online databases you can do your own research or, if you live outside Sydney, you can take advantage of our library's free reference enquiry service or information service for privately owned artworks. Enquiries can be made via letter, fax or online.
A wide range of merchandise and publications from the Gallery Shop can be bought online and delivered to your door.
The Gallery also supports the needs of students and teachers from school communities in regional New South Wales through a variety of education programs – in particular our annual HSC Study Days – and free online education materials – including Inside ARTEXPRESS.
A selection of rich educational content for students, lifelong learners and people interested in knowing more about art or the Gallery is available through the Beyond Campus section of iTunes U. And you can watch Gallery videos or listen to audio on the Gallery Channel, on YouTube or through SoundCloud. You can also find us on Google Art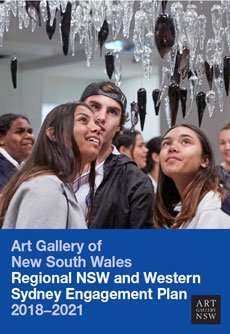 Regional NSW and Western Sydney Engagement Plan 2018-21 (PDF 7.0 MB)