Grand Courts
Have fun exploring the European, Australian and Aboriginal art in our 19th-century Grand Courts and make some art of your own.
Our children's trail for the permanent displays in our Grand Courts was so popular that we no longer have print copies available. However, you can download and print the trail and bring it to the Gallery on your visit.
Our children's trails are designed to engage young children aged 6-12 with selected objects and images in the Gallery and our exhibitions. They combine looking and interpreting, drawing and writing activities to enable children to explore key themes and ideas while in front of the artworks. Extension ideas for activities at home and in the classroom are also included to extend children's experience beyond the Gallery and to encourage and develop a love of art. Available online or as free printed booklets at the Gallery.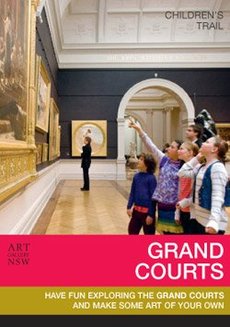 Download Grand Courts children's trail (PDF 451.1 KB)